Robert Englund Talks 'Stranger Things,' Freddy Krueger & More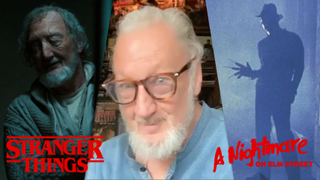 (Image credit: Netflix / New Line Cinema)
Horror legend and icon Robert Englund joins us to talk about his role in Stranger Things Season 4, Freddy Krueger, his favorite movie villains, and more. He takes us down the path of Freddy Krueger diving into Hannibal Lecter's dreams, Stranger Things' brilliance in blending classic '80s film, shooting a scene largely covered in narration, and whether or not Victor Creel will return in Stranger Things Season 4 Part II.
Want More ReelBlend?
Sign up for our premium membership, which includes an extra episode a week, a bi-weekly newsletter from Sean, and ad-free episodes. Also, be sure to subscribe to ReelBlend on YouTube for full episodes of the show in video form. Finally, we have all kinds of fun merchandise for dedicated Blenders to flaunt their fandom with pride.
Gabe studied Film & Photography at Webster University. He currently spends his free time looking like a fool trying to play Ice Hockey (a recently acquired hobby), playing video games, and watching every movie starring Dwayne "The Rock" Johnson. Dwayne, if you're reading this...he sends his love.
Your Daily Blend of Entertainment News
Thank you for signing up to CinemaBlend. You will receive a verification email shortly.
There was a problem. Please refresh the page and try again.