Warm Bodies Sequel Book The Burning World Is Coming Soon, Here's What It's About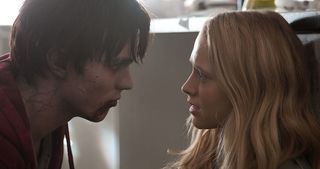 Fans of Isaac Marion's Warm Bodies have been waiting patiently for the anticipated followup novel to the zombie love story. The release of The Burning World has been set for early 2017, and it's officially available for pre-order. But what can we expect from R and Julie in the story to come?
Isaac Marion's official website states that The Burning World has R in recovery mode. The recovering zombie has to relearn all the basics about being human -- things like breathing, speaking and not being so awkward and clumsy. He and Julie are all about moving forward into the great unknown post-zombie-apocalyptic world. R may not remember where he comes from before he was zombified, but it seems like the past may be coming back to haunt him regardless...
The Burning World is lined up for a February 7, 2017. And as you can see, the cover art shows two shadows of figures holding hands, standing in the light let in from whatever awaits them outside.
When Isaac Marion recently talked to Bookish, he elaborated a bit on the plot of the sequel...
Warm Bodies released back in 2010, and introduced us to the zombie mind of R, one of many undead people staggering around and feasting on brains in a post-apocalyptic world. Though he begins as a zombie, a bit of life sparks in R's mind and heart when he sets his sights on Julie, one of the living survivors who crosses his path. Part of the dark twist in this story involves R getting to know her better by feeding off the brain of her deceased boyfriend. The story has some obvious and lovely shades of Romeo & Juliet, mixed with a wittiness and charm that is surprisingly fresh, especially when we consider that the book released amidst what felt like a sea of young adult post-Twilight supernatural love stories.
Warm Bodies went on to be made into a movie starring Nicholas Hoult and Teresa Palmer, around which time Isaac Marion took us a bit back in the timeline for a prequel novela, A New Hunger, which focused on Julie's friend Nora. The Burning World is a full novel, however, and up for preorder at a discounted price. Bonus: The author is offering all sorts of cool incentives for pre-ordering and referrals. (As if we need incentives to anticipate this book!)