One iPhone 7 Change That's Causing The Internet To Freak Out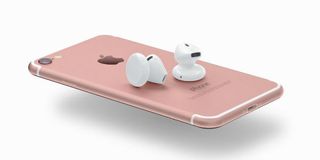 (Image credit: Apple)
Apple is about to cut the cord... literally. The tech giant announced a major change in how people will be listening to that free U2 album nobody asked for at their iPhone 7 introduction event on Wednesday. The updated smartphone will do away with headphone jacks in favor the included lightning connector Earbuds, and the option to buy their futuristic wireless earbuds called AirPods, Naturally, this update has thrown the Internet into a tizzy.
Rather than a cord, the new AirPods (opens in new tab) are equipped with Apple's W1 chip to wirelessly sync to the user's iPhone 7 via blue tooth. Additionally, Apple announced that a pair of AirPods would cost $159. Those who want to use their old 3.5 mm headphones, will need to use a lightning connector adaptor.
The Internet was quick to poke holes in this new update. Many Twitter users pointed out that the small, disconnected AirPods would very easily get dropped and/or lost.
While others simply poked fun at the design --- even the similarly named movie pup Air Bud himself got in on the fun.
Thankfully, Apple isn't forcibly subjecting us to this wireless fate. The iPhone 7 will also include a 3.5 mm headphone jack adapter so users can still plug in regular earbuds and headphones. Not the most convenient option, particularly if you don't happen to have an adaptor when you unexpectedly need to plug headphones into your phone, but this may be an issue that'll become less of a concern over time, as more people switch to bluetooth options.
Another thing that could help assuage some worries is that this shocked and worried reaction seems pretty common after every new iPhone announcement. Remember back when we were all scared the iPhone 6 would bend and fold like a piece of paper? Or that it would be too massive to carry? We were freaked out about Siri too way back when the iPhone 4S was announced, and now the digital assistant is just another part of our everday lives that we rarely think twice about.
And these AirPods aren't the only wireless devices Apple that could be coming for the iPhone. Nintendo is working on smartphone-compatible wireless controllers to take iPhone gaming to the next level.
The iPhone 7 will be available on Friday, Sept. 16, with preorders on apple.com (opens in new tab) beginning this Friday. Check out the AirPods announcement video below.
Your Daily Blend of Entertainment News
Thank you for signing up to CinemaBlend. You will receive a verification email shortly.
There was a problem. Please refresh the page and try again.