Natalie Portman Is Pregnant With Her Second Child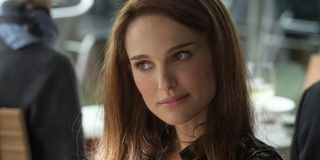 (Image credit: Marvel)
Natalie Portman is about to be a mommy... again! The actress is expecting her second child with husband Benjamin Millepied, and proudly showed off her new baby bump at the Venice Film Festival on Thursday.
The pregnancy news, though not officially confirmed yet, is being reported by Us Weekly, who also has some pictures of Portman at the film festival red carpet today. Natalie Portman was attending the event for the premiere of her upcoming drama Planetarium, and she hit the red carpet in a floor-length white gown flourished with flowing, over-the-shoulder draped fabric.
Natalie Portman and Millepied are already parents to their 5-year-old son Aleph Portman-Millepied, born a year before the couple married in 2012. The pair met on the set of the 2010 thriller Black Swan, which Portman starred in and Millepied choreographed dance routines for. Millepied also appeared in the film himself as one of the dancers, and Portman went on to win the 2011 Best Actress Oscar for her role in Black Swan. A couple years after getting married to Portman, Millepied announced that he was in the process of converting to Judaism, the religion of his wife.
She may be carrying her second child, but if you think that's going to slow Natalie Portman down, think again. In addition to Planetarium, which comes out next month, she's starring in three very different films set to come out soon. The Heyday of the Insensitive Bastards is an upcoming adaptation of short stories by Robert Boswell, in which Portman will costar with James Franco, Kate Mara, and Kristen Wiig. The romantic drama Weightless will see Portman navigating love triangles with some of Hollywood's most prestigious actors, including Ryan Gosling, Cate Blanchett, Christian Bale, and Michael Fassbender. Finally, Portman will team up with Ex Machina director Alex Garland for his next sci-fi thriller Annihilation, which will also feature the star of Garland's first hit Oscar Isaac, along with Jennifer Jason Leigh and Jane the Virgin's Gina Rodriguez.
As if all that work on the big screen weren't enough, Natalie Portman is also digging into an upcoming HBO mini-series. She's announced that she will be both starring in and executive producing the mysterious drama We Are All Completely Beside Ourselves, playing a college student who was raised to believe a chimpanzee was her twin sister. This is another step in the production direction for Portman, who made her directorial debut last year with the biographical drama A Tale of Love and Darkness.
Portman may be up for another round of changing diapers, but don't expect to see her fighting supervillains on the big screen anytime soon. The Thor star recently said she believes that she's done making Marvel movies for right now.
Your Daily Blend of Entertainment News
Thank you for signing up to CinemaBlend. You will receive a verification email shortly.
There was a problem. Please refresh the page and try again.