A Guy Is Suing Disney World After He Was Apparently Bitten By A Poisonous Snake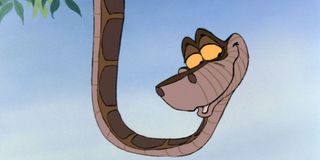 (Image credit: The Jungle Book)
Hmm, maybe it isn't the happiest place on earth after all... Just months after coming under fire for an alligator killing a young boy on the property, Disney World is yet again in the news for reptilian attacks. This time, a man is suing the park for a snake bite he received on the premises three years ago, which has resulted in the paralysis of his right hand.
Michael Barth, a man from Pennsylvania, is taking legal action against Disney World for his injury, TMZ reports. Barth says that back in July of 2013, he visited Disney World and was swimming in one of the resort's pools when he came across a snake. With no resort employees in sight, Barth says that he attempted to put a towel over the snake's head to try to prevent it from attacking pool-goers, but the snake managed to bite his right thumb during this process.
After the bite, Barth says that he spent five days in the ICU and was administered 16 vials of anti-venom. However, the snake's poison still caused damage, and now Barth claims that his right hand is paralyzed. There is no explanation as to why Barth is pursuing a lawsuit against Disney World now, three years after the incident.
According to The Legal Intelligencer, the case was thrown out of Pennsylvania federal court at the end of August. The Pennsylvania judge dismissed the case due to lack of jurisdiction, saying that since Disney is neither incorporated in Pennsylvania nor does it have substantial operations within the state, that it was an inappropriate lawsuit for the court. Barth's lawyer will reportedly file an appeal to this ruling.
This lawsuit comes just a couple of months after 2-year-old Lane Graves' body was found dead in a lagoon near a Disney World hotel, having been dragged into the water and drowned by an alligator. Graves' death occurred on June 14 of this year, and the park responded by fencing off its Seven Seas Lagoon three days later and posting numerous signs that read "Danger: Alligators and snakes in area. Stay away from the water."
Of course, these signs were not around at the time of Michael Barth's snake incident in 2013. As stated before, there is no explanation available for the large delay between Barth's snake bite and his decision to take legal action. Could it be that he heard about the recent alligator attack and was re-galvanized against Disney World? Or maybe the snake venom has only recently taken on its full, debilitating effect on his hand --- I'm no snake expert so I'm not sure how plausible that is.
Let's just hope that the only animals we see at Disney World moving forward are friendly mice or citizens of Zootopia.
Your Daily Blend of Entertainment News