How Julie Bowen Responded To A Rumor That She's Feuding With Sofia Vergara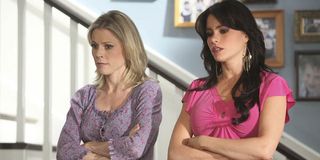 (Image credit: Modern Family)
Claire Pritchett may not always have the most healthy relationship with her young stepmother Gloria on Modern Family, but the actresses who play those roles are very close friends... despite the occasional rumor to the contrary.
Julie Bowen stopped by The Ellen DeGeneres Show on Wednesday to put rumors that she and Sofia Vergara are feuding to bed once and for all. Bowen told Ellen that she constantly gets calls and emails from tabloids who are looking to print stories about feuds among the cast of Modern Family, and most recently, a magazine tried to fabricate a contention between herself and Vergara, making claims that Bowen was "icy" towards her costar due to jealousy.
What better way to put a rumored feud to bed than by sharing your clothes? Julie Bowen revealed that after she learned about the phony feud story, she emailed Sofia Vergara asking how to handle it, and the actress responded by lending Bowen the lavender, one-sleeved blouse that she wore to the interview.
After clearing that up, Julie Bowen went on to decry the culture of tabloids and paparazzi, saying that they will just print whatever will they want without any regard for the truth. She joked that they would print stories calling her an alien or calling Ellen DeGeneres a two-headed cat from outer space.
Check out Julie Bowen's interview --- including her spot-on impression of Sofia Vergara --- below.
It would seem pretty preposterous for anyone in the Modern Family cast to hate one another after the immense success they've found together. The ABC hit sitcom is currently in its eighth season, and has garnered a whopping 21 Emmys in that time, along with a Golden Globe award. But earlier in her interview with Ellen, Julie Bowen revealed that she almost didn't get cast on the show. Because she was pregnant with her twin sons John and Gustav Phillips during the casting period, Bowen feared that she wasn't going to be cast as no-nonsense mom Claire Pritchett, and said that she instead focused on a different role that was written for a pregnant woman. Luckily, both Bowen and the casting team came to the conclusion that she was perfect for the role of Claire in the end.
Your Daily Blend of Entertainment News