How Gary Sinise Is Helping Wounded Veterans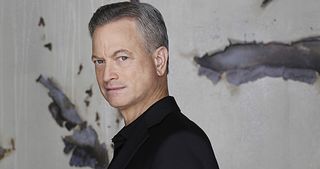 (Image credit: Criminal Minds: Beyond Borders)
Gary Sinise has done more than just play a wounded army veteran on the big screen --- he also goes above and beyond in his personal life to give back to the American soldiers who have lost so much while at war. The actor's foundation is building new homes that are specially equipped to help wounded veterans.
On Veterans' Day this past Friday, Gary Sinise personally handed over the keys to the 52nd smart home that the Gary Sinise Foundation has built for wounded veterans, reports Maryland local station Fox 5. The new home went to Army Captain Luis Avila and his family. Capt. Avila lost a leg and suffered multiple strokes, heart attacks, and sustained brain damage as a result of a bomb that exploded near him while he was serving in Afghanistan five years ago. Like the other smart homes that Sinise's foundation has built for wounded vets, Avila's new house comes equipped with cutting edge technology to help the disabled veteran live as comfortably as possible.
After rising to fame in the '90s thanks partly to his role as wounded Vietnam War veteran Lieutenant Dan Taylor in Forrest Gump, Gary Sinise devoted much of his personal life to charities and efforts benefitting veterans. Inspired by his famous character, Sinise formed the Lt. Dan Band in 2004 to perform at USO shows and charity events benefitting veterans, and in 2012 the Gary Sinise Foundation began its effort of building smart homes for injured vets. Each of the more than 50 homes that the foundation has built includes automated amenities designed to make daily life for the disabled veterans easier.
When he's not working to aid injured war veterans, Gary Sinise is currently starring in the Criminal Minds spin-off Criminal Minds: Beyond Borders. The new gig is the latest in a string of roles on network procedural dramas from Sinise. Since starring in massive movies from the '90s like Forrest Gump, Apollo 13, and The Green Mile, Sinise shifted to becoming a network mainstay as detective Mac Taylor on CSI: NY for its full nine-year run.
Gary Sinise's extensive work for war veterans has earned the actor various commendations, including honors by West Point and numerous prestigious nonprofits . Though he did not serve in the military himself, Sinise's tireless work on behalf of the armed forces earned him honorary titles as a U.S. Navy Chief Petty Officer and a U.S. Marine.
But I'm sure the most rewarding honor of all for Gary Sinise is being able to see these injured heroes finally catching a break in an amazing new home.
Your Daily Blend of Entertainment News
Thank you for signing up to CinemaBlend. You will receive a verification email shortly.
There was a problem. Please refresh the page and try again.