How Jennifer Lawrence Got Revenge On Chris Pratt For His Bad Selfies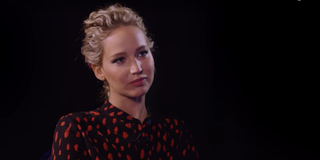 J-Law is laying down the law. After weeks of being cropped out of Chris Pratt's Instagram shots, Jennifer Lawrence got back at her Passengers co-star in a big way with a little help from Jimmy Kimmel. Instead of nudging Pratt out of a photograph, Lawrence took out her revenge on a giant bus-side advertisement featuring her and Pratt, using spray paint to black out his face and give him a devilish make-under. Check out the hilarious video below.
Since Jennifer Lawrence isn't on social media herself, Jimmy Kimmel offered up the perfect way to get back at Chris Pratt when she stopped by his show on Monday night. After Kimmel reminded her of all the various Instagram posts that Pratt has been posting in which her face had been obscured in some way, Lawrence brought in a double-decker bus with the ad for their upcoming movie Passengers largely emblazoned on the side.
Right as the bus, which was filled with excited fans, stopped in front of her, Jennifer Lawrence got straight to work covering Chris Pratt's face with black spray paint, while Jimmy Kimmel helped out by blacking out all the letters in the word Passengers except the "ass" part, then adding an arrow to make it clear that was a reference to Pratt. For some finishing touches, Kimmel changed Pratt's last name to "Rat," and Lawrence added some devilish red eyes and a pitchfork to her costar. All in all, I'd say Lawrence more than got back at Pratt for those cropped photos.
This hilarious fake-hate between Jennifer Lawrence and Chris Pratt has been a centerpiece in the Passengers press tour recently, and given fans a whole lot to laugh about! In fact, on the very same day that Lawrence defaced a giant image of Pratt on Jimmy Kimmel Live, a video of the two costars flinging insults at one another at BBC Radio One also went viral. Check out Lawrence try to keep a straight face while she calls Pratt dumb, old, and untalented.
Obviously, the mean humor is all in good fun, and it's clear that Jennifer Lawrence and Chris Pratt are having a great time laughing with each other. And thankfully, we've still got a week of the Lawrence-Pratt hilarity to look forward to before their sci-fi romance Passengers opens in theaters on December 21. That movie probably won't give us a lot of laughs, but at least we'll have this press tour!
Your Daily Blend of Entertainment News
Thank you for signing up to CinemaBlend. You will receive a verification email shortly.
There was a problem. Please refresh the page and try again.