One Seriously Lucky Reddit User Got Bill Gates As Their Secret Santa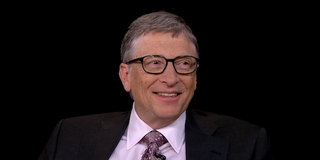 (Image credit: Charlie Rose)
Bill Gates is giving Santa Claus himself a run of his money this Christmas. The tech mogul surprised one incredibly lucky Reddit user with a treasure trove of gifts, perfectly tailored to the woman's video game obsession.
Reddit user Aerrix shared her amazing story about coming home to find that Bill Gates was her Secret Santa last week. She had entered Reddit's Secret Santa gift exchange a few weeks back --- a large holiday gift exchange in which the website randomly assigns participating users another participating Redditor to mail a gift to. Apparently, it's not just everyday Reddit users who got in the holiday spirit with the Secret Santa, but also Bill freakin' Gates!
Photo taken by Aerrix
Aerrix came home after sending out her Secret Santa gift to find that her Santa went above and beyond the call of Christmas duty by sending her a massive box of goodies. It wasn't until she opened the giant cardboard box that she fully realized how lucky she got. On top of a ton of wrapped presents, Aerrix found a photo of Bill Gates along with a note from the famed billionaire saying that he was her Secret Santa this year.
Of course, Aerrix was as shocked and overjoyed as any of us would be to find out that one of the wealthiest people in the whole world would be buying gifts for her --- I mean, you can be pretty confident Bill Gates is going to go a little above and beyond the exchange's $20 minimum. But the most touching part of the gift was that Gates didn't just throw a bunch of money at Aerrix willy nilly and slap a stamp on the box; Gates carefully studied the woman's interests to get her a cornucopia of presents that she was sure to be elated to receive.
Photo taken by Aerrix
After learning of Aerrix's obsession with video games, and the Legend of Zelda franchise in particular, Bill Gates stuffed the box with tons of goodies plucked straight from Hyrule, along with a new Xbox and Classic NES for her to play video games to her heart's content. And Gates also threw in some personal touches: after learning that Aerrix missed her uncle's Cajun cooking, he sent her a cookbook filled with New Orleans specialties, and he also donated some money to a computer science program in her name since programming is so important to her. The full list of Gates' gifts to Aerrix are listed below:
Needless to say, Bill Gates is a pretty awesome Secret Santa.