Paris Jackson Has No Doubts About Michael Jackson Being Her Father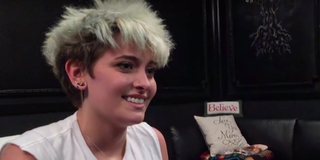 (Image credit: Criss Angel Trick'd Up)
As with so many aspects of the late Michael Jackson's life, the parentage of his two oldest children has been shrouded in questions of conspiracy for some time now. A favorite topic of the tabloids since their birth in the late '90s, Prince and Paris Jackson faced constant media scrutiny over whether the King of Pop was actually their biological father, or whether former nurse Debbie Rowe was their biological mother. But while the public may have been confused, Paris Jackson never had a doubt in her mind as to who her parents are.
Paris Jackson bluntly addressed the question of her parentage in a recent cover story for Rolling Stone, noting that it would be the only time she speaks about it publicly. Clearly, the question annoys her, as it would anybody --- it's incredibly personal and invasive --- but Jackson confirms without any doubts that Michael Jackson was indeed her biological father. The reporter noted that Jackson made "fierce eye contact" when she affirmed that MJ was her dad.
Though Michael Jackson was married to Debbie Rowe in the late '90s, a number of men --- including Jackson's dermatologist, his bodyguard, and actor Mark Lester --- claimed that they fathered the two children that Rowe had given birth to at that time. Jackson had always brushed off these claims and insisted he was the father, but there was always speculation surrounding the parentage, especially given that both Prince and Paris Jackson have light skin. In the cover story, Paris explains that although she doesn't necessarily look it, she sees herself as black. She says that it's far from unheard of for the child of a black parent and a white parent to have light skin, and gives the example of Prison Break star Wentworth Miller.
And to go further than just skin deep, Paris' older brother Prince Jackson admits that he can see Michael Jackson clearly in his sister. Prince notes that just like their father, Paris is emotional and wildly passionate about everything she does. It's that intense connection to her emotions that also made philanthropic efforts to save the earth such a huge part of Paris' life, as it was for her father.
As for her mother Debbie Rowe, Paris Jackson didn't know anything about her until she was about 10. Rowe had given Michael Jackson full custody rights of Prince and Paris when they divorced a year after Paris' birth, and a couple years later she had her parental rights terminated. Eventually, Paris began asking Michael about her mom, and she would meet up with her from time to time. After her father's death, Paris reached out to Rowe more, and they developed more of a relationship, although Paris describes it as adult friends rather than mother-daughter.
Having just turned 18 last year, Paris Jackson is her own woman now, on the cusp of becoming a model/singer/actress, and she always seems to have only the best things to say about the upbringing her father gave her.
Your Daily Blend of Entertainment News
Thank you for signing up to CinemaBlend. You will receive a verification email shortly.
There was a problem. Please refresh the page and try again.