Chris Pratt And Anna Faris Use A Secret Code When They Want To Escape Hollywood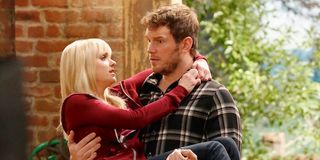 These days, Anna Faris is busy promoting her new animated film, The Emoji Movie. Conveniently, the 40-year-old comedic actress and her movie-star husband, Chris Pratt, know all about emoji language. Apparently, the power couple shares an affinity for it in their everyday life. Faris and Pratt use a particular emoji to tell each other when they have had enough of the Hollywood scene and need to get away as fast as possible. Faris explained in a recent interview and said,
So, let's see. Anna Faris and Chris Pratt can use a secret language in real life when they need to flee from Hollywood. Faris can speak with ideograms in The Emoji Movie. Chris Pratt can speak to dinosaurs in Jurassic World. Is there anything this adorable couple can't do?
Joking aside, Anna Faris is super busy these days, so she has plenty of reason to send that secret emoji signal to her Hollywood husband. In addition to having a busy schedule with her lead role on the hit CBS sitcom Mom, Faris is working on the upcoming remake of Goldie Hawn and Kurt Russell's classic '80s movie Overboard. Furthermore, she is making time for interviews with magazines like People to talk about The Emoji Movie, in which she voices the character Jailbreak.
Then, like Anna Faris, Chris Pratt is also on top in Tinseltown. Passengers and Guardians of the Galaxy 2 were enormous. Plus, he already has upcoming movies like Avengers: Infinity War and Jurassic World: Fallen Kingdom in post-production. In other words, Faris and Pratt have packed schedules. Therefore, it is no wonder they sometimes have to call it a day and head to the Evergreen state to spend some quality time at their secret place.
Besides, the dynamic duo has a four-year-old son, Jack Pratt. Parenthood is job number one for them, so they probably feel the need to spend time with family in their home state of Washington. Hopefully, that eagle-emoji signal is getting sent a lot.
Despite being two of the most successful people in Hollywood, Chris Pratt and Anna Faris seem super laid back. In the interview, Faris revealed that they are very normal in their everyday lives. She said her husband likes to work on projects in the garage, and she does laundry and watches reality television shows.
At the same time, Anna Faris says she and Chris Pratt have learned over the years that their status as a celebrity power couple means extra work when they are out in public. She said the added attention people place on their relationship is not something she or Pratt ever anticipated.
Thank goodness Anna Faris and Chris Pratt can sneak away on vacation whenever it all becomes too much. All they have to do is send an emoji.
Your Daily Blend of Entertainment News
Thank you for signing up to CinemaBlend. You will receive a verification email shortly.
There was a problem. Please refresh the page and try again.