Are Scott Disick And Kourtney Kardashian Finally Back On Track?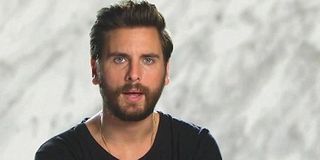 Fans of Keeping Up with the Kardashians caught a glimpse of Scott Disick behaving in questionable ways on the show this year. By the end of the most recent season, the word was Kourtney Kardashian was not giving Disick permission to co-parent their three children with her until he made some changes. Now it appears Disick might be doing what he needs to do to get right in Kardashian's eyes. In fact, a new report suggests the former couple has struck a new arrangement, and they seem to be back on track as co-parents.
Kourtney Kardashian and Scott Disick are not interested in rekindling their past romance, but they are on good enough terms that Kardashian wants Disick to join her in co-parenting their three kids: Mason, Reign, and Penelope. In fact, photographers spotted the former couple and their children together in Nantucket over the weekend, which indicated Mom and Dad were working hard to cooperate with each other after hitting some snags this year. As TMZ tells it, Kourtney Kardashian knows what she wants from the arrangement, so the terms include Disick staying sober and being cool with the fact that she wants to date somebody new.
Back in May, Scott Disick's hard-partying ways made headlines, and people wondered if he was in the midst of a breakdown spurred by a drinking problem. In fact, Disick became a target for robbers who watched his social media accounts to see when he would be out of town for party events. Then when he posted about going to Las Vegas for a weekend of birthday celebrations, burglars snuck into his place and made off with some expensive watches in addition to thousands of dollars.
Supposedly, Kourtney Kardashian pulled the plug on Scott Disick's co-parenting rights around that time and urged him to get sober and clean up his act. The paparazzi kept catching Disick with different women. Reports said he was jealous that Kourtney Kardashian wanted to move on with Younes Bendjima, a 23-year-old model. Then Disick appeared to go on a serial dating spree with women including actress Bella Thorne and model Ella Ross, and he brought a date to a Kardashian-Jenner family dinner, which sparked a heated moment between him and his ex's sister, Khloe Kardashian.
Meanwhile, Kourtney Kardashian continued living her best life despite the drama instigated by her former long-term boyfriend. Along with being busy with single-mom duties, Kardashian has been working out, getting some sun, and going on vacations with her gal pals.
Of course, Kourtney Kardashian has enough money to hire helpers to look after their children. However, having Scott Disick around to offer a helping hand would probably help her a lot. Besides, she undoubtedly wants her kids to have time with their dad, and whenever Disick interacts with his children on the show, he appears to be a loving father. So, it is a relief to see Disick possibly doing damage control to get back in his ex's good graces and spend time with his kids.