Ryan Seacrest Speaks Out About His Relationship With Girlfriend Shayna Taylor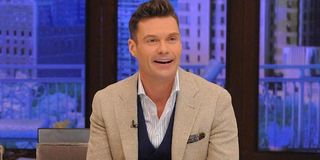 Ryan Seacrest and Shayna Taylor are definitely doing well in their relationship. The two recently took a romantic excursion to Europe, where they captured some gorgeous photos. Later, Seacrest and Taylor attended a special event in New York City, and the 42-year-old talk show host dished on the vacation and the happy state of his relationship. For example, when asked what he and Taylor like do on date night, Seacrest smoothly answered,
Aw! Ryan Seacrest gave the clever answer during a red-carpet interview with E! at the Hampton's Paddle and Party for Pink Benefiting the Breast Cancer Research Foundation event in New York. His answer was a smooth one, but nowadays, it is a little bit hard to believe. Ryan Seacrest did, in fact, decide to return to his spot as the host of American Idol for the reboot. Plus, he plans to continue working on Live with Kelly and Ryan and iHeartRadio. Thus, it is a good thing he and Shayna Taylor found time for a romantic getaway. Regarding the trip, Seacrest said,
From the sounds of it, Ryan Seacrest and Shayna Taylor had a fabulous time locked in love on vacation. In fact, during the trip, Taylor had fun posting Instagram photos from luxurious locales around Europe. For example, she posted this photo (and added a lovey-dovey caption to boot):
So, it seems like everything is smashing in their relationship these days. In fact, Ryan Seacrest and Shayna Taylor are all moved in together at the residence they share in New York City, which is where he works alongside Kelly Ripa. Therefore, he will be flying back and forth from New York City to Los Angeles for American Idol at least once a week. Seacrest did not say whether or not he feels nervous about the crazy commute, but he did speak lovingly toward his new hometown. Seacrest said he and Taylor are having fun getting to know NYC together. He said,
How romantic. Ryan Seacrest and Shayna Taylor dated off and on for several years. They stepped out together on the red carpet of an event in April of this year, which signaled to the press that they were again a pair. Afterward, they moved in together in New York City when Seacrest joined his morning talk show gig. It is great to see Seacrest so happy. Hopefully, the intense schedule will not hinder their relationship, as it seems like this one could be the real deal.
Your Daily Blend of Entertainment News