The Woman In The Kevin Hart Extortion Video Apparently Wants Money To Take A Lie Detector Test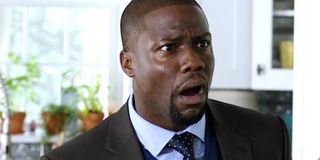 The plot thickens in the extortion scandal haunting Kevin Hart. We recently learned an extortionist had access to a video that might damage the 36-year-old comedian's reputation. The video was not a sex tape but did involve a man and a woman engaging in suggestive behaviors. The extortionist maintained the man in the video was Hart. Now the FBI has identified the woman in the video as 27-year-old Montia Sabbag from Long Beach, California. Apparently, Sabbag denies that she is the extortionist, and she says she would try to prove it by taking a lie detector test--if Hart were to pay her $420,000 to do so.
According to TMZ, the young lady in question is an exotic dancer who spent time with Kevin Hart during a wild weekend in Las Vegas last month. Reportedly, Hart had not met her before then, and he has not seen her again since.
When the video first came out, there were rumors the woman on camera was the person trying to blackmail Kevin Hart for millions of dollars. However, Montia Sabbag reportedly denies having anything to do with the creation of the video. Her attorney even said she would take a lie detector test to prove her innocence--as long as she receives a big payday, of course.
Now investigators are digging into the matter to see if they can figure out who was behind the filming of the video. From the sounds of it, a bunch of people could have participated in the extortion scheme.
After the video surfaced, the anonymous extortionist reached out to the media and said Kevin Hart set up his crowdfunding campaign for hurricane relief efforts to raise funds he could use to pay off his blackmailer and keep the video a secret. However, Hart's representative denied that claim and said Hart intends to send the money to people affected by Hurricane Harvey.
Furthermore, in response to the accusations, Kevin Hart recorded a video message and posted it to social. He expressed remorse for his actions but did not give specific details about what he did. Hart explained he recognized his mistakes and would not allow someone to profit from them.
Before the recent accusations surfaced, Kevin Hart dismissed rumors he had cheated on his pregnant wife, Eniko Parrish. He used social to explain he sometimes has to laugh off the gossip about infidelity.
Still, Kevin Hart previously admitted he cheated on his first wife, Torrei Hart, with whom he shares two children. In fact, the timeline of Kevin Hart's relationship with Eniko Parrish is somewhat unclear, and when she recently posted loving words about their eighth anniversary, many people on social reminded her it had only been six years since Kevin Hart and Torrei Hart's divorce.
The drama between Eniko Parrish and Torrei Hart is neither here nor there when it comes to the extortion scandal. But because of Kevin Hart's past infidelity and the renewed interest in his private life, it would not be outside the realm of possibility to think an extortionist might see him as an easy target for this kind of shakedown. Here's hoping the FBI gets to the bottom of the video and the threats.
Your Daily Blend of Entertainment News
Your Daily Blend of Entertainment News
Thank you for signing up to CinemaBlend. You will receive a verification email shortly.
There was a problem. Please refresh the page and try again.