Heidi Montag And Spencer Pratt Have Welcomed Their First Baby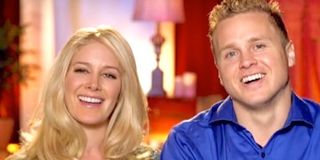 Heidi Montag and Spencer Pratt have moved on from The Hills to the stork. The reality television personalities welcomed their firstborn bouncing baby boy, Gunnar Stone Pratt, on October 1. Montag released a brief but touching statement after giving birth, and said,
Heidi Montag retweeted articles about her newborn bundle of joy. She included one next to a picture from her and Spencer Pratt's wedding, and she wrote that they were the two happiest moments of her life. Reportedly, Gunnar Stone Pratt was born at 3:06 p.m on the first day of the month. He was 19 inches long and weighed 6 pounds, 12 ounces. Also, he has blond hair and blue eyes because duh; have you seen his parents?
Earlier this year, Heidi Montag and Spencer Pratt spoke about their enthusiasm for starting a family. She said she had never been more excited in her life. Montag admitted to reading tons of pregnancy books but, in the end, the 31-year-old Denver native realized she knew nothing. But Pratt indicated Montag would be a great mom because she wanted kids from the day he met her in the early aughts.
Heidi Montag often posted about her pregnancy journey on social media. For example, she and Spencer Pratt had one last hoorah before welcoming their son. They went on a "babymoon" in Hawaii, where they uploaded social media pictures of themselves enjoying fruity, non-alcoholic beverages on the beach. Furthermore, Montag often posted videos of herself working out to encourage pregnant women to keep in shape. Montag also wished herself a happy mother's day and mentioned missing her mom, whom fans of The Hills saw during tense moments like the infamous time Montag admitted to her mom the details of her controversial plastic surgery procedures. Luckily, Montag and her mom worked out their differences in 2016 on the show The Mother/Daughter Experiment: Celebrity Edition.
Three is the magic number now that Heidi Montag and Spencer Pratt are parents, but it was a crowd on The Hills when Heidi Montag notoriously chose between dating Spencer Pratt and having a friendship with her castmate, Lauren Conrad. Choosing to stay with Pratt, whom Conrad believed had spread rumors about her, Montag ended the friendship.
After MTV, Heidi Montag dabbled and failed to launch a pop music career; she then made headlines for radically changing her appearance with ten plastic surgery procedures. Later, Montag and Spencer Pratt caused a stir with their provocative behavior on Marriage Boot Camp. They also did a round of interviews to confess they had lost nearly all their money. More recently, however, Montag and Pratt seem to have grown up. From the sounds of it, they are happier than ever with their new baby boy.
Your Daily Blend of Entertainment News
Thank you for signing up to CinemaBlend. You will receive a verification email shortly.
There was a problem. Please refresh the page and try again.