Watch Chrissy Teigen Announce Her Pregnancy With John Legend In Adorable Home Video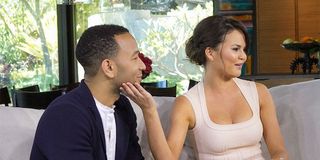 Chrissy Teigen and John Legend are expecting baby number two. Teigen used an adorable video to confirm the exciting news for her fans and followers on social media. In the video, the 31-year-old model asks her and Legend's one-year-old daughter, Luna, what is in her tummy. The interaction is cute beyond words, so check it out for yourself:
Aw, how cute is little Luna in Chrissy Teigen's Instagram video? We have seen pregnancy announcements come in many shapes and forms, but this style might be one of the best. After making the announcement, Teigen hopped on Snapchat to show off her baby bump in pictures like this one:
Thanks to the caption on the photo, we know Chrissy Teigen has been dying to let the cat out of the bag and tell everyone about her pregnancy news. The Lip Sync Battle star wrote,
The news is extra exciting because Chrissy Teigen has been vocal about the struggles she and John Legend have faced trying to conceive children. For example, she once talked to Us Weekly about her pregnancy challenges and said,
In fact, John Legend previously told Cosmopolitan he felt grateful to live in a time when couples can find help to have children. The Grammy Award winner mentioned how in-vitro fertilization helped him and Chrissy Teigen conceive Luna, and how they probably would utilize it again down the road.
Chrissy Teigen has also been upfront about the ups and downs of her journey surrounding pregnancy. For instance, in spring of this year, Teigen wrote a candid essay for Glamour and opened up about her struggles with postpartum depression. She also addressed how having Luna was a complicated process in and of itself.
Of course, we do not yet know whether Chrissy Teigen and John Legend are expecting a boy or a girl, but we do have some clues that suggest Luna might get a baby brother. Earlier this year, Teigen revealed she and Legend might have a boy one day. When people asked for details, she responded she and Legend had one last male embryo waiting on ice for the next time they tried to have a child with in-vitro fertilization. So, if that embryo was the one that took, we might assume Teigen and Legend will soon welcome a little guy to the mix.
Hopefully, this pregnancy is a happy and healthy one. Furthermore, here's hoping Chrissy Teigen continues being her wonderfully outspoken self and gives us little insights into her pregnancy journey over the coming months.
Your Daily Blend of Entertainment News
Your Daily Blend of Entertainment News
Thank you for signing up to CinemaBlend. You will receive a verification email shortly.
There was a problem. Please refresh the page and try again.