Demi Lovato Shares Stunning Pic In A Wedding Dress, But Why?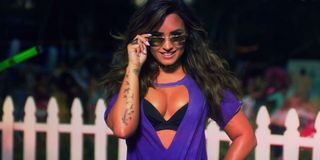 Demi Lovato recently got people talking after she uploaded a social media photo of herself wearing a wedding dress. The 25-year-old pop star neglected to add a caption to the image, so her fans and followers went into a full meltdown asking for details. Regardless of the rhyme or reason for the photo, Lovato looked stunning as a bride---even if it most likely was fiction. Take a look:
Demi Lovato has not yet explained why she shared the image with her millions of fans on social media. However, most entertainment news outlets seem to agree the pop star most likely posted the picture to excite people in advance of releasing a new music video for an upcoming song. After all, it has been several months since Lovato released "Sorry Not Sorry" and "Only Forever" from her latest album, Tell Me You Love Me, so we're due for another Lovato banger.
In fact, Demi Lovato recently took to social media to upload a promo of her new song "Échame La Culpa" with Luis Fonsi, the guy behind "Despacito." Before uploading the promo, Lovato had shared a silly exchange with Fonsi via comments on social media. For example, Fonsi wrote "What's up Demi" on a picture Lovato had posted. The message read as flirting because it was on a picture of Lovato looking sexy in fishnet tights. Lovato responded "Hi Fonsi" and dropped a cute emoji next to it. Although many of the musicians' social media followers suggested the exchange was a sign of flirting, People pointed out how the upcoming collaboration most likely was the basis.
Similarly, many news outlets say the wedding dress picture might have something to do with this song, too. We'll have to stay tuned to see if it does or if it is an image from some other promotional work Demi Lovato has up her sleeve. But we guess she most likely is not planning a wedding of her own right now. In fact, in August Lovato told Sirius XM's Morning Mash Up radio show she was enjoying the single life after splitting up with MMA fighter Guilherme "Bomba" Vasconcelos, whom she dated for about a year. Before Vasconcelos, Lovato was in a long-term relationship with actor Wilmer Valderrama, but they amicably parted ways in 2016. Lovato described her single status during the radio interview and said,
So, it seems like a safe bet to say Demi Lovato most likely has a new project coming up, and the wedding dress picture is an element of it. Regardless, it will be exciting to find out what it all means.
Your Daily Blend of Entertainment News
Your Daily Blend of Entertainment News
Thank you for signing up to CinemaBlend. You will receive a verification email shortly.
There was a problem. Please refresh the page and try again.