How Kate Middleton Feels About Prince Harry's Big Engagement News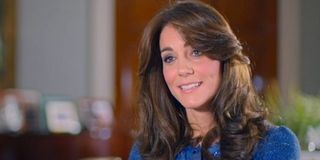 Prince Harry and Meghan Markle received an outpouring of affectionate messages upon announcing their engagement this week. Some of the official congratulatory words came from Prince Harry's grandmother, father, and brother and their respective families. Now Prince William's wife, Princess Catherine (i.e. Kate Middleton), has provided an extra, off-the-cuff congratulations for the happy couple. Reporters caught up with The Duchess of Cambridge a day after Prince Harry and Markle's had made their happy announcement, and she said,
Kate Middleton shared the lovely sentiment on Tuesday when she paid a visit to the Foundling Museum in London. The museum displays information about the history of the Foundling Hospital, the first children's charity and public art gallery in the United Kingdom. People said Princess Catherine was there meeting with people who benefited from the museum's art therapy program. In recent years, the Duchess of Cambridge has become an advocate for using art therapy in charitable works and education.
From the sounds of it, Meghan Markle is eager to follow in her future sister-in-law's philanthropic footsteps, as Markle recently revealed she is giving up acting to take on the work of the royal family now that Prince Harry has put a ring on it. In fact, Kensington Palace says Prince Harry and Markle will tackle their first official engagements as a couple later this week in Nottingham for the Terrence Higgins Trust World AIDS Day charity fair. There, Prince Harry and Markle will meet members of groups supporting people living with HIV and AIDS. Evidently, Markle is ready to roll up her sleeves and get to work, so it is no wonder Kate Middleton is welcoming her with open arms.
Of course, Prince William and Princess Catherine are enjoying a happy moment of their own in married life. The couple is expecting a third child. They already are parents to four-year-old Prince George and two-year-old Princess Charlotte. Their third child should arrive sometime in early 2018, perhaps around the same time as Prince Harry and Meghan Markle's spring wedding, which Kensington Palace has announced will take place in May of 2018 at the Gothic fifteenth-century temple St. George's Chapel in Windsor Castle, just west of London. Take a look:
Do you think Meghan Markle and Kate Middleton might become best friends and, like, take road trips together? Maybe from time to time, they could Skype in Lady Gaga for tea time like Prince William did earlier this year during the royal family's Heads Together campaign to overcome stigmas about mental health. Surely, Markle and Middleton will at least have chances to do charitable works. From the sound of it, those moments will begin sooner than later, so we love seeing Middleton embracing Markle from the jump.
Your Daily Blend of Entertainment News
Your Daily Blend of Entertainment News
Thank you for signing up to CinemaBlend. You will receive a verification email shortly.
There was a problem. Please refresh the page and try again.