Taylor Swift's Convicted Groper Finally Paid Her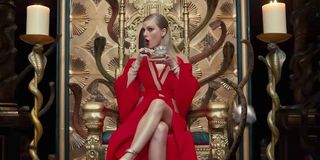 David Mueller, the former disc jockey whom a Colorado court this year convicted of groping pop star Taylor Swift in 2014, recently told reporters he had mailed the symbolic $1 he owed the "Look What You Made Me Do" singer. Mueller explained he sent a $1 Sacagawea coin because he hoped for it to work as a dig. The convicted groper indicated he believed Swift blew the matter out of proportion and the press sensationalized the story. Mueller ventured to explain his joke and said,
David Mueller told the AP he liked the idea of sending a $1 Sacagawea coin to Taylor Swift because it features a prominent Native American woman. Thus, one can surmise he thought it amusing because there is a woman on the coin, and this story became one of the most talked about women's issues of the year.
Taylor Swift ended up among the "Silence Breakers," the group of women who became TIME's Person of the Year for 2017. In Swift's interview for the magazine, she revealed she had yet to receive the $1 the court ordered David Mueller to pay her for groping her rear end at a meet-and-greet event in 2014. Swift discussed why she decided to take a bold stance on the stand in the courtroom and speak in a direct, informal manner instead of with courtroom formalities.
According to Taylor Swift, David Mueller's attorney had got on her last nerve by making Swift's mother upset during the cross-examination. Therefore, Swift decided there was no reason for her to be polite when it was her turn to speak up. For this reason, Taylor Swift spoke with an assertive, blunt tone, and her testimony went on to make headlines.
The sexual assault case spanned a few weeks this year. Swift famously appeared in court each day of the proceedings. Surprisingly, the matter started as David Mueller's case. He went after Swift for $3 million and alleged he had lost his job and profession after Swift supposedly told people he had put his hand up her skirt and on her rear end at a meet-and-greet event.
When Taylor Swift heard David Mueller was trying to get $3 million from her, she countersued for sexual assault and asked for a symbolic $1 to show the suit had absolutely nothing to do with money. In the end, the court threw out Mueller's case and sided with Swift in her counterclaim.
We'll have to stay tuned to hear whether Taylor Swift receives the $1 Sacagawea coin David Mueller supposedly sent to her. It would be interesting to get her perspective on Mueller's last attempt at taking her down a peg.
Your Daily Blend of Entertainment News
Your Daily Blend of Entertainment News
Thank you for signing up to CinemaBlend. You will receive a verification email shortly.
There was a problem. Please refresh the page and try again.