What Fans Should Know About Christopher Walken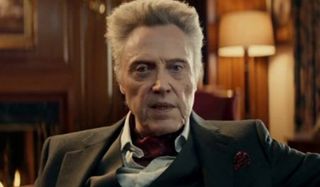 Christopher Walken is one of those people where you can instantly tell who they are, even if someone's doing a barely passable imitation. With a unique voice, a bold swagger, and a glee that most others cannot match, Walken is an iconic actor whose legacy has spanned generations and not dulled one bit.
And with such a career comes a treasure trove of trivia and knowledge that would make even his biggest fans take a moment or two to ask themselves if they knew some particular points that'll be raised. If we're lucky, we here at CinemaBlend will be the folks to deliver some of those stump-worthy bullet points, as we're about to go through the facts that all good Christopher Walken fans should know.
The cowbell has officially rung, so let's get started.
When Was Christopher Walken Born?
Born on March 31, 1943, Christopher Walken was brought into the world by his parents, Rosalie and Paul, in Astoria, New York. As the middle brother of three children in the family, with older brother Kenneth and younger brother Glenn, the three were child actors with spots on TV in their youthful years. Though he was going by a different name at the time, as he was born Ronald, but eventually became Christopher.
Christopher Isn't His Actual First Name
As the story goes, Christopher wasn't a name he'd use professionally until he turned the formidable age of 18 years. Upon the suggestion of his friend and fellow entertainer, Monique van Vooren, he changed it to Christopher in 1964 as she thought it would make a better stage name than Ronnie. After years of stage and TV experience under his given name, Christopher Walken would take off after not too long after his big name change.
Is Christopher Walken Married?
Yes. Christopher Walken married his wife Georgianne in 1969, and the two are still married to this day. A casting director between 1990 and 2007, Georgianne has worked with her husband on two projects, 1983's Brainstorm and 1996's Basquiat. If there's a record for longest marriages in Hollywood, this probably more than qualifies.
Does Christopher Walken Have Any Children?
There are no children in Christopher and Georgianne's lives. However, the pair do have a fondness for cats. Their current pet is a feline by the name of Bowtie, with their previous cat being named Flapjack. He's even a fan of the internet meme of Henri, le Chat Noir. So while the Walken family may not have any human children to speak of, they certainly have a fondness for fur babies.
How Many Academy Awards Has Christopher Walken Won?
Out of two nominations that he's received, Christopher Walken has won one of the two Academy Awards he's been considered for. Walken was nominated for both 1978's The Deer Hunter and 2002's Catch Me If You Can; the former nomination being the win. Walken's portrayal of Vietnam vet Nick Chevotarevich, alongside co-stars Robert DeNiro and John Cazale, was one of the performances that helped boost his early career to stardom.
Walken Is A Huge Elvis Fan
Ever since his teenage years, Christopher Walken has been a huge fan of Elvis Presley. As the story goes, his girlfriend at the time showed him a photo of Elvis in his prime, and he was bowled over by his look.
Christopher Walken's fandom not only extended to his personal adoption of the pompadour hairstyle, but also inspired him to write and perform a play about his idol in the afterlife, Him. And as any good fan would be inspired to do, he played the part of Elvis himself.
Dancing And Singing Have Become Two Of His Trademarks
While his career is more widely known for playing eccentric, and sometime villainous, characters, there are two skills that Christopher Walken loves to show off whenever he's able: singing and dancing. The public would discover this for the first time in 1981, when Walken played a tap dancing pimp named Tom in Pennies From Heaven, which involved a huge song and dance number to "Let's Misbehave."
His musical theater abilities would crop up in various places throughout his career, but most importantly in three specific areas. In addition to almost every monologue as a host for Saturday Night Live containing a song and dance, you may have seen Christopher Walken on MTV a couple of times throughout the '90s, or in his starring role as Captain Hook in NBC's live production of Peter Pan.
Christopher Walken Has Been In Several Music Videos
For someone who has such a huge love for Elvis Presley, as well as the medium of song and dance, it seems like a natural sort of move for Christopher Walken to appear in a music video. And you might be surprised with some of the acts he's been paired with in the videos he managed to leap into.
His first two videos were for Madonna and Skid Row, as the '90s saw him in the music videos for their respective singles "Bad Girl" and "Breakin' Down." But perhaps his greatest achievement in the medium was as the surprise star of Fatboy Slim's "Weapon of Choice" video, which saw him dancing and flying through a deserted hotel lobby.
Christopher Walken's Been A Seven Time Host Of Saturday Night Live
When it comes to being host of Saturday Night Live, we all know that the threshold of greatness is marked by those who have served at least five times. Well, baby, you can count good old Christopher Walken among those ranks, as the man has been a host of the show for seven times thus far.
Starting with his first appearance in 1990, and ending with his final appearance on record in 2008, Walken has held court on the show for as many days as there are in a week. But you can take one of those days off the calendar if you're trying to count how many appearances include his famous sketch involving The Continental, as he didn't bring that character back in his '08 outing.
He (Almost) Never Turns Down A Role He's Offered
Christopher Walken's generous career is something he chalks up to one important fact: he tries not to say no to a role he's offered. While it's not exactly true, as there are some roles he's not been able to do for logistical reasons or lack of interest, he almost always leaps at a chance to do something new. While some might see it as a bad thing, it's a skill that Walken prides himself on.
And without it, we probably wouldn't have seen him in lesser known films like Mouse Hunt, The Country Bears or even The Stepford Wives remake – all of which he adds his own unique stamp to. Plus, if Christopher Walken weren't so adventurous, he probably wouldn't have taken a chance on young Quentin Tarantino's breakout hit Pulp Fiction. So go ahead and try to imagine that movie without the watch monologue.
Christopher Walken Was Almost Han Solo
While it was a joke in the long running series of Saturday Night Live sketches making fun of Star Wars auditions, Christopher Walken's inclusion is based on reality. In the process of auditioning the role of Han Solo, the roguish looking Walken read for the role, but ultimately didn't get it.
Which is ok, considering the company was in was the likes of Nick Nolte, Burt Reynolds, Kelsey Grammar, and Tom Selleck, all of whom also auditioned for the part. The role would memorably go to carpenter/up and coming actor Harrison Ford.
No, Christopher Walken Was Never Going To Run For President
We close with a sad reality that folks learned over a decade ago, despite a hoax on the internet telling them otherwise. Prior to the 2008 election, there was a convincing rumor going around that Christopher Walken was actually going to run for president. It sounds weird, but considering his character in Wedding Crashers was a political mover and shaker, it was something that actually took hold.
Unfortunately, the hoax was proven incorrect by Walken and his publicist, but he did play along in one small respect after the jig was up. If you were ever wondering what a Christopher Walken candidacy's campaign slogan would look like, he gave two to his fond admirers: "What the Heck" and "No More Zoos!" We'd like to think that last one was due to his time as a young lion tamer, back in his circus days.
And that is possibly everything you could want to know about Christopher Walken, unless you really want to find out what his sixth grade teacher's name was. In which case, we can't help you, but admire your passion for the man who once gave this world just a little more cowbell.
It will be a sad day if Christopher Walken ever decides he wants to retire for good, but when he does, he'll leave behind one hell of a story. And if he wants to do something in his post-retirement years, we'd definitely suggest he write an autobiography or seven, seeing as he has enough material to make for some interesting reading.
CinemaBlend's James Bond (expert). Also versed in Large Scale Aggressors, time travel, and Guillermo del Toro. He fights for The User.
Your Daily Blend of Entertainment News
Thank you for signing up to CinemaBlend. You will receive a verification email shortly.
There was a problem. Please refresh the page and try again.