Fortnite's Newest Emote Is A Classic SNL Reference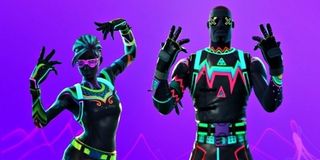 Fortnite has a fever, and the only prescription is more cowbell. And that's exactly what players are getting courtesy of a new emote inspired by a classic bit from Saturday Night Live that will have you bobbing your head and "really exploring the space" of your living room.
Fortnite's latest emote went live recently and, as you can tell from the reveal tweet above, it's a rather fantastic homage to an SNL sketch from nearly two decades ago. Epic is calling it a "Llama Bell" emote, as the musical instrument is actually shaped like the game's mascot critter. The avatar begins by whacking the bell unenthusiastically, getting more and more into the beat as the emote continues.
This is, of course, a reference to the notorious "More Cowbell" routine from SNL circa 2000. One of the best-known and most frequently referenced sketches from the entire history of the show, the premise of the gag is that the Blue Oyster Cult is in the recording studio, working with a legendary producer played by Christopher Walken. Band members include Mr. Cowbell himself, Will Ferrell, as well as folks like Chris Kattan, Horatio Sanz and current late night talk show star, Jimmy Fallon.
Presented as an episode of VH1's "Behind the Music," Walken keeps interrupting the band's recording of "(Don't Fear) The Reaper" because he feels it's lacking in some sweet, sweet cowbell. Ferrell's playing of the instrument leads to a band dispute, as well as a laugh-out-loud rendition where he gets a bit too enthusiastic with his dancing while playing. We even get a classic example of Jimmy Fallon breaking in the middle of the bit because he finds the whole thing just too ridiculous to keep a straight face.
The Fortnite emote captures the escalation of Ferrell's playing well, including Epic's take on the insane dancing. Given the popularity of the Cowbell sketch, we figure this particular emote will quickly become a fan favorite.
In other Fortnite news, the most recent season is chugging along nicely but, with Season Six around the corner, rumors are already buzzing about what the next theme will be. Season Five saw holes ripped in space and time to smash together several different periods of influence, but folks seem pretty convinced that, given its timing, the next theme will be something "spooky" to coincide with the upcoming Halloween holiday. Rumors suggest we could be getting fresh details as soon as this week.
Also, if you're going to PAX West next week, you'll probably want to drop in on the Epic booth and see what they've got cooking for Fortnite. From a mini-golf course to a four-day tournament open to all comers, there should be plenty to keep all of you battle royale fans happy.
Your Daily Blend of Entertainment News
Staff Writer for CinemaBlend.