Amy Schumer Gives Waiter Huge Tip, Proves She's Awesome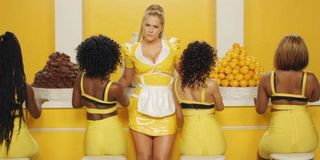 Amy Schumer's been popping up everywhere lately. After the comedian scored her own TV show on Comedy Central her fame quickly rose. And now she's in the midst of promotion for her upcoming Judd Apatow flick, Trainwreck. Schumer is always the funny one in the crowd, and quite loud about it. But a couple of weekends ago Schumer proved that she's not only hysterical, she's also a pretty good person, leaving a student server a one thousand percent tip.
Schumer was sitting down for a meal at Long Island restaurant Peter's Clam Bar, when she started to chat with her young waiter. According to the New York Post, the two got into quite the 'engaged, animated' conversation and the server, Ryan mentioned that he was a college student who worked two jobs to fund his education. It wasn't until after Schumer paid her bill that Ryan saw just how much those words had an effect on the actress. Schumer got a bill of $49, and left her waiter a $500 tip.
The restaurant manager told Huffington Post that Schumer only ordered a cup a soup and couple of appetizers, so while the food may have been good, it was really her waiter that prompted the generosity. Long before the comedian had made it big, she herself was waiting tables and tending bar between auditions. So it comes as no surprise that the Long Island native sympathized with the waiter. And it just makes us like her even more to know that she's still looking out for those struggling, even when she has not a worry in the world financially right now.
We're expecting big things from her upcoming film debut. The comedian not only wrote the screenplay, but also stars with love interest Bill Hader. Oh and on top of those two names, the flick is being directed by The 40-Year-Old Virgin's Judd Apatow. From the trailers, Trainwreck already looks like it embodies some of Schumer's best qualities; raunchiness, wit and a whole lot of girl power. Take a look:
We can't wait to see what this comedy duo has to offer when Trainwreck hits theaters July 17. And in the meantime, all you waiters out there, if you're serving Schumer, be reaaaaal nice, you could be rewarded.
Your Daily Blend of Entertainment News
Your Daily Blend of Entertainment News
Thank you for signing up to CinemaBlend. You will receive a verification email shortly.
There was a problem. Please refresh the page and try again.