Another Busey, Gary's Son Jake, Is Off To Rehab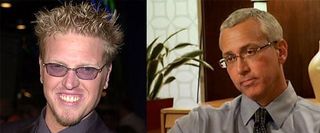 Jake Busey, the son of beleaguered actor Gary Busey, admitted to TMZ that he may be off to rehab soon after a recent run-in with "a little too much fun."
The Starship Troopers actor was checked into the hospital for alcohol poisoning after over-indulging in beer. Really, just beer, celeb readers--not every hospital stint can be blamed on cocaine. He told TMZ he's headed towards a "straight path to clean living" and may also reach out to his dad, Gary, to get him back in film. Maybe they should work together on a PSA for a drug-free America, or would that just be too ironic?
While carrying the surname of an Oscar nominee had its perks, Jake Busey has had to forge for much of his own work. After a few bit parts in movies as a child and teen, Busey found himself cast as Ace Levy in the movie, Starship Troopers in the late 90's. But after a few more bit roles in film, the actor turned to work in television, working in shows like CSI: Miami, The Mentalist, and The Good Guys. The last large movie he was in was Christmas with the Kranks, so perhaps a little career rehab wouldn't do much harm either. His father has credited Jake for helping him through troubled times before like when Gary almost died from a motorcycle accident and bounced in and out of addiction spells. Now it maybe dad's turn to take care of his son. One can only hope that father and son make it to the other side alright.
Paging Dr. Drew.
TMZ has the full interview.
Your Daily Blend of Entertainment News
Thank you for signing up to CinemaBlend. You will receive a verification email shortly.
There was a problem. Please refresh the page and try again.