Donald Glover, AKA Childish Gambino, Releases Another Song From His New Album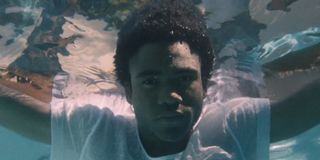 Depending on who you ask, Childish Gambino aka Donald Glover, might have made a gigantic mistake. I think everyone in the blogosphere can agree that Glover's music is hands down some of the most unique stuff coming out right now, but we're not talking about his music. It's those select fans of the NBC comedy show Community who think Glover has taken the wrong fork in the road by deciding not to return full time for his role as Troy on the beloved sitcom's fifth season.
The reason behind why the comedian/actor/rapper isn't returning full time to Community is that he wants to spend more time on his music project. Since he's been doing less Troy and more Gambino, the rapper has been hard at work on a new album called Because the Internet. We've already heard the first single from his sophmore record, via the jam "3005," but today Gambino dropped a brand new track called "Worldstar." Even though some fans of his comedy work might not like this news, I'm extremely happy he's out there making music and giving us more samples from Because The Internet. Check out the new joint below to see if you're excited for more Childish Gambino and less Troy and Abed in the morning.
So, it's my humble opinion that this song "Worldstar" is just another example of why Glover is doing something right by not returning full time to Community. Glover proved himself as a worthy contributor to the rap game after his debut album Campfire, and it also showed us that the comedian was not only just funny, but also a damn good songwriter as well. And while it's yet to be seen if his new album will be any good, I think "Worldstar" gives us a good indication that both Community and Gambino fans can rest assured. The song bumps, grinds, and then sends itself off with a cool jazzy outro. What more can you ask for in a rap song?
Look, I'm definitely a fan of Glover's work on Community. Like most fans of the cult show, I wept when Dan Harmon was fired as show runner, hated the fourth season, then screamed with joy when he was hired back for thenew season. I also think that half a season of Community without Abed's better half will make the show seem incomplete. Yet, I can't help but find myself happier that Glover is spending more time making beats, and less time rapping La Biblioteca.
Your Daily Blend of Entertainment News
Thank you for signing up to CinemaBlend. You will receive a verification email shortly.
There was a problem. Please refresh the page and try again.