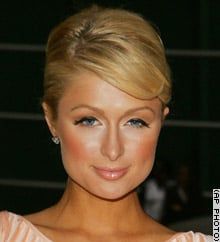 Perpetually preening Paris Hilton has allegedly had corrective surgery in Los Angeles last week to perk up a drooping eyelid that made her look like she was half-asleep (a distinct possibility) or flirting with you (not even close!). Apparently the sub-zero socialite created the problem about five years ago when she went in for an eyelid lift and caused the drooping muscles in her left lid to remain depressed. But seeing what Paris sees might be enough for any eyelid to stay shut. Further exacerbating the problem, Hilton continued wearing blue contact lenses over her brown orbs, ignoring her physician's advice.
The droop was famously parodied on "South Park" a couple seasons back and if you look at her paparazzi poses, the Hilton heiress does cheat to the right quite a lot. Paris' rep Elliot Mintz told the New York Post's Page Six, "To the best of my knowledge, Paris has never had any kind of cosmetic surgery and has not mentioned any medical procedures having to do with her eyes." Mintz may not be too busy to worry himself over his clients' lid: Paris recently pled "not guilty" to her September DUI bust and the judge has ordered a February 23 trial. Mr. Mintz likely has his hands full.
And speaking of hands, if we can get her to a surgeon to take care of those enormous man-hands we would have something to distract ourselves.
Your Daily Blend of Entertainment News