Emmy Winner Stabs Roommate After Argument Over How Many Oscars He'd Win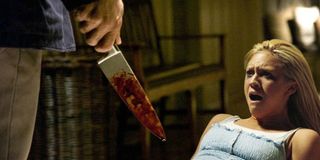 In one of the more WTF news stories to break this week, an Emmy-winning producer went a little too far after an argument with his roommate. And what makes the story even more ridiculous, is what the argument was all about. Andre Salaman Bautista, who goes by the name Andre Bauth allegedly stabbed his roommate, actor Clayton Haymes after Haymes laughed at Bauth's claim he would someday win five Oscars.
Bauth had recently won a Daytime Emmy earlier this year for his work on the online soap opera The Bay. Well, the win must have gotten to his head, as reports are streaming in about the story behind the stabbing. Haymes discussed the event with CBS Los Angeles and told the news organization that Bauth was bragging that he would someday win five Oscars, to which Haymes and friends laughed at. That's when things turned ugly, and Bauth began to get very upset. He allegedly then chased Haymes into a room with a kitchen knife and stabbed him in the lung before fleeing the scene.
Now, the producer is wanted by police on charges of attempted murder and assault with a deadly weapon. And Haymes, while terrified and just happy to be alive, told CBS that Bauth was a totally different person that night, and he can't understand why it happened considering they were friends. As of last night, police are still searching for Bauth. And anyone with information on his whereabouts has been asked to call the LAPD.
As for Bauth's Hollywood career, well that might not be happening if this attempted murder conviction holds. Apparently Bauth also had dabbled in the acting game. Both he and Haymes appeared in a film called El Landlord which Bauth produced. The film, according to Haymes, is about a man pursuing his dreams in Hollywood when he decides to rent out a house to tenants, and ends up killing some of them. Bauth who is also Haymes landlord at their house, apparently may be following the plot line to their film? That or Haymes really is an actor, and who knows what this whole spiel is really about.
Your Daily Blend of Entertainment News