Family Guy Creator Seth MacFarlane Is Dating Game Of Thrones' Emilia Clarke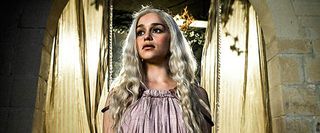 Recently Family Guy creator Seth MacFarlane was spotted at an Emmys after party. This in itself is not unusual—the man presented an award during Sunday's big event. However, what was a bit unusual was the woman he sported on his arm. Attending the after party with MacFarlane was none other than Game of Thrones' Emilia Clarke.
It's a little difficult to recognize the famous face in the event photos, provided over at US Weekly. In real-life Clarke is a brunette, but as Daenerys Targaryen on HBO's hit fantasy drama, Clarke has fine blonde hair. Since the Game of Thrones role is what the actress is most known for, it's difficult to spot her out in the real world, kind of like how it would be difficult to spot Where's Waldo if he wore blue stripes instead of red.
Although the pair were spotted out for their first big event on Sunday at the HBO Official Emmy After Party, they were also seen leaving the Four Seasons to head out the night before. Recently, the two were even spotted doing karaoke in a Koreatown bar in Los Angeles. With US Weekly also noting the couple have been together for several months, it looks like the two are dating proper, even if they haven't come out to their respective publicists, yet. Pop Blend would like to wish the best to the 24-year-old actress and her 38-year-old beau. I really hope he doesn't do Peter Griffin in bed.
Your Daily Blend of Entertainment News