Forget Game Of Thrones, A New York Lawyer Just Demanded Trial By Combat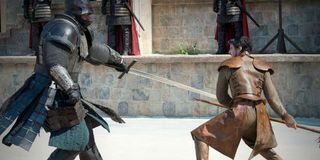 The HBO fantasy series Game of Thrones has quickly reached cult status. When you think about its viewership, it seems absurd that anyone hasn't at least seen part of the series, if not all of it. But in certain scenarios, some fans are taking their obsessions a little too far. This time around a super fan has decided to use what he learned in the series at his day-to-day job. And things become even more ridiculous when you realize he is an attorney demanding a literal battle to the death.
The Staten Island lawyer, Richard A. Luthmann is channeling his inner Game of Thrones in a recent case, asking a judge to sanction a trial by combat to resolve a civil suit. What makes this even more insane is that trial by combat has never actually been outlawed in the U.S. or in New York State. According to a local publication Staten Island Advance the lawyer has been accused of helping a client commit fraud in a civil suit. His response is that the suit is ludicrous, so why not fight fire with fire? In a brief filed to the state Supreme Court Luthmann wrote:
In the event that this case is not dismissed, Luthmann seeks trial by combat. And as we've seen in Game of Thrones this can take place by either the disputant or a stand-in. In his request, Luthmann details the history of trial by combat including how it was never banned by the Constitution in the U.S. or in the state of NY. The lawyer has acknowledged that this move could hurt his career, and that the judge may not be happy with this request, but he is prepared to take it to the highest level, as a right under the constitution.
The guy may sound crazy, but detailing the history of trial by combat in over 10 pages is not a task to be taken lightly. Luthmann sounds serious about his request, and we'll just have to see how far this match goes. Can you imagine an event like this actually taking place today? Hopefully it doesn't end quite as graphically as that Game of Thrones scene.
Your Daily Blend of Entertainment News
Your Daily Blend of Entertainment News
Thank you for signing up to CinemaBlend. You will receive a verification email shortly.
There was a problem. Please refresh the page and try again.