Former Bond Star George Lazenby's Book Reveals Bluffing His Way Into Role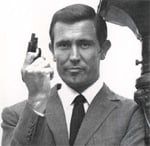 Actor George Lazenby will reveal how he "bluffed" his way into the James Bond role - he's writing a tell-all book on his career. The Australian star enjoyed a short-lived stint as the suave superspy in 1969 Bond movie On Her Majesty's Secret Service, before losing the role to Roger Moore. Now he's set to tell the full story of his one-off big-screen outing as 007, and how it affected his career in later years.
According to reports, Lazenby's literary agent describes the upcoming autobiography as "a brilliantly frank tale of how he bluffed his way into the role of James Bond, and what he did afterwards."
There is no confirmation on whether Lazenby will detail his personal life and his explosive, ongoing divorce from tennis ace Pam Shriver in the tome. The book, titled The Other Fella, is due for release in 2012. (ZN/WNWC/LR)
Copyright 2010 WENN
Your Daily Blend of Entertainment News
Thank you for signing up to CinemaBlend. You will receive a verification email shortly.
There was a problem. Please refresh the page and try again.