Keira Knightley Broadway Debut Disrupted By Screaming Superfan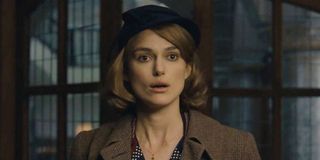 Reaching celebrity status can be a dangerous thing. Once an actor has become a popular, there's no turning back. There will always be fans that take their obsessions a bit too far, and any time a celebrity is seen in person, those fans tend to lose their minds. The great thing about movies is there are a few degrees separation. We see the actors on the screen, but they aren't actually there. This is the perfect scenario for some of the more popular actors, because in our modern, celebrity-driven world, performing with a live audience can become, well, distracting. It's been happening more and more often as critically-acclaimed actors take their skills to smaller stages. This time around, Keira Knightley was making her Broadway debut when a crazed fan disrupted the performance and attempted to propose?
Keira Knightley took center stage in her highly anticipated Broadway debut in the titular role Helen Edmundson's Thérèse Raquin. But, within minutes of the curtains' draw, the show was disrupted by an audience member. E! News chatted with two bystanders of the incident and apparently the man was shouting at the Oscar nominated actress, and followed his crazy talk with proposal. Audience member Kacey Bange told E!:
Security guards walked over to the man, and escorted him to the aisle, but at that point they apparently let go of him briefly, at which he turned a tossed a bouquet of flowers to the stage. The lead actor of the show Gabriel Ebert apparently kicked the flowers off the stage, and the Pirates of the Caribbean actress continued to perform a few more lines. But the show was then shut down for a short intermission.
Knightley kept her cool throughout the whole mess, a trait she must have perfected by now with her popularity over the years. While it definitely would have been a shocking ordeal, and upsetting interruption, it seems that the actress just continued on with her business, and left the crazy to be handled by security. The debut was an opening preview performance, so the theater will be adding extra security for the rest of the performances, including when Thérèse Raquin officially opens at Studio 54 on Oct. 29.
Your Daily Blend of Entertainment News
Thank you for signing up to CinemaBlend. You will receive a verification email shortly.
There was a problem. Please refresh the page and try again.