Melanie Lynskey And Jimmi Simpson Call Off Their Marriage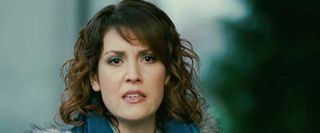 Romance is dead. Amy Poehler and Will Arnett broke up recently, and now Perks of Being a Wallflower actress Melanie Lynskey and Breakout Kings' Jimmi Simpson are calling it quits. The papers were filed in Los Angeles County late last month (on September 25, to be exact). Lynskey was the culprit who actually filed, and the actress cited irreconcilable differences in the documents. With this turn of events, I've come to the conclusion that a person should never put their romantic hopes in a dude who willingly ends his name with the letter "i" when it should be a "y."
Having no idea what actually happened to end the relationship, I suppose I shouldn't make Simpson shoulder the blame. The two have been separated since April, after all, and it seems like both Simpson and Lynskey are class acts and the divorce proceedings will likely go pretty smoothly. According to TMZ, there are no minors in their family, so they won't have to deal with any strenuous custody stuff. Secondly, both members of the ex-couple have decided not to take spousal support.
None of this changes my mind about romance. At least in Hollywood, I have very little hope for true love. While Simpson and Lynskey's break-up has been less public and less beloved than Poehler and Arnett's, I always thought the couple was the perfect team. They are both awesome at their craft and they just seemed to fit. Rita Wilson and Tom Hanks better make it last forever, or I'm just going to become a Scrooge-like curmudgeon and hole up in my house.
Your Daily Blend of Entertainment News
Thank you for signing up to CinemaBlend. You will receive a verification email shortly.
There was a problem. Please refresh the page and try again.