Miles Morales Is Getting His Own Spider-Man Series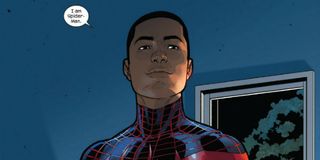 After a long and heated battle over which version of Spider-Man we would see next on the screen, Marvel announced that it would indeed stay Peter Parker. Needless to say, fans of the Miles Morales character were incredibly disappointed. But in an attempt to ease that pain, Marvel has just announced that Miles Morales will be joining the official Marvel Comics universe as the new Spidey in the Spider-Man comics relaunch.
The news comes exclusively from NY Daily News, explaining that the relaunched Spider-Man will feature Miles Morales under the mask, the teen son of an African-American father and Puerto Rican mother. Writer and co-creator of the series, Brian Michael Bendis reiterates the importance of Miles Morales in the Marvel universe:
Morales entered the pages of the comics in 2011 in Marvel's offshoot Ultimate line after Peter Parker was murdered. He's gained quite the following, but has never been an official main title, with the "real" Spider-Man a part of the main lines. And though Miles Morales won't be hitting the big screen anytime soon, fans tiresome efforts to get him as the new onscreen Spider-Man were not unheard by Marvel. When the publisher opted to fold the Ultimate series in their big "Secret Wars" event, Morales gained a permanent home alongside a grownup Peter Parker as his mentor. Bendis adds:
The announcement of the "All-New" and "All-Different" Marvel Comics earlier this month promised some changes, bringing in new characters, and changing up the old. Here's the cover for the new series, you can head to NY Daily News for the high resolution version here.
It really comes as no surprise that Miles Morales has gained a larger role in the universe, as Marvel has lately been pushing more inclusive material including a female Thor and The Falcon taking over as Captain America. Not to mention one of Marvel's biggest hits in the past couple years has been Ms. Marvel, a muslim teen girl.
And really, there's no better person to pen the comic than Brian Michael Bendis who is not only the primary architect of the Ultimate Marvel Universe but has also written a slew of the Marvel big event storylines including "Secret War", "Secret Invasion" and "Age of Ultron". He's written a number of Spider-Man comics as well, and is a seasoned veteran over at Marvel. But atop of all of his experience, Bendis is a father of four children. When his one adopted daughter, of 4 years old and African-American descent found a Miles Morales Spidey mask in the store, and put it on Bendis immediately started crying tears of joy:
The first issue of the relaunched Spider-Man will hit stores and be available digitally this fall. Along with Bendis penning the series, artist Sarah Pichelli will be drawing.
Your Daily Blend of Entertainment News
Your Daily Blend of Entertainment News
Thank you for signing up to CinemaBlend. You will receive a verification email shortly.
There was a problem. Please refresh the page and try again.