Marvel Comics Are About To Become Way More Accessible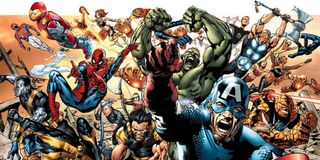 Marvel has been planning some big changes as of late, especially when it comes to their comics. Just recently the publisher announced an "All New" and "All Different" Marvel would soon be hitting the shelves, introducing a whole slew of new characters along with significant changes to existing ones. Now, along with the reboot, Marvel has also announces more accessibility, renewing an exclusive contract with ComiXology and expanding their digital publishing to Amazon.
Marvel has previously established a strong relationship with ComiXology as the company exclusively distributed and sells Marvel digital comic books across their applications. But in 2014, when Amazon acquired ComiXology, it had opened up even further opportunity for the comic book company. This deal not only will introduce over 12,000 single issues to the digital marketplace, but will also open up a new opportunity for Amazon and Kindle users. Comics will now be available on the Amazon Kindle platform.
Basically what this means is that digital comic books are becoming a whole lot more accessible. With the ComiXology app, single issues, trades and graphic novels were available for purchase and viewing on Fire tablets, iPhone, iPad, Android devices, and the ComiXology website. Now with the expansion into the Kindle platform, Marvel Comics will be available through the Amazon Kindle store. ComiXology will also continue their powering of the Marvel Comics app, which will put out tens of thousands of new issues for users. Within these new releases into the digital space will be a wide selection of comics for all types of Marvel Comic readers, and Marvel wants to give new fans all of the options. Marvel executive Daniele Campbell told The Wall Street Journal:
This expansion will provide opportunity to find new and old comics that spark readers' interests. And what makes the digital platform special is that fans are able to read through an interface that allows focused viewing on one panel at a time. And for all of us TV/movie fans out there, more comics, and more readership of comics usually pushes more screen productions. And Marvel Studios certainly can certainly build on that.
Your Daily Blend of Entertainment News
Your Daily Blend of Entertainment News
Thank you for signing up to CinemaBlend. You will receive a verification email shortly.
There was a problem. Please refresh the page and try again.