Minka Kelly And Chris Evans Are Probably Dating Again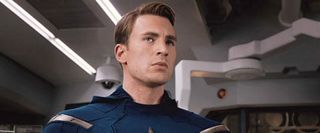 The most recent news in couples that would make cute babies is the story of Chris Evans and Minka Kelly, who are reportedly giving dating one another a second go. The couple were first seen back together at a popular eatery in Boston on August 18, and the sparks and romance have been flying ever since. However, whether this will prove to be a fling or a true romance has yet to be determined.
Kelly and Evans were together way back in 2007, before Kelly was dating her former beau Derek Jeter. In fact, Kelly likely broke up with Captain America for the Yankees player, which means there could be some potential misunderstandings that could potentially flare up between the two. Jeter and Kelly have been broken up for just over a year, now, and after a slew of short romances with the likes of Jake Gyllenhaal and Wilmer Valderrama, it might be the right for the Charlie's Angels actress to give an actual relationship a go with someone whose last name is easier to spell.
Unfortunately, the two actors seem unwilling to confirm anything. However, The Boston Herald is reporting the August 18 restaurant date was more than a friendly hook-up and the couple were hanging on one another and even canoodling during the entire afternoon spent in the Boston spotlight. Plus, the hang out time has certainly not been a one-day fling, because the two were caught a few days later in New York catching a showing of Into the Woods.
Both Kelly and Evans live busy lives, so there's no telling if this will pan out perfectly. Still, the two score pretty high on the cute-o-meter, and Pop Blend is rooting for a romance. We'll keep you posted.
Your Daily Blend of Entertainment News