Seal Visits The Ellen Show To Discuss Split With Klum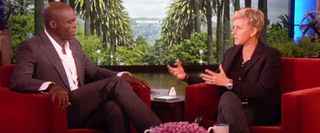 After days of rumors both confirming and denying golden couple Seal and Heidi Klum were split, on Monday, the couple released a joint statement officially decreeing a separation is in their future. Divorce or no, the couple seemed amicable about the split, stating for their sake and the sake of their children they would just like a little privacy.
After such a personal and professional joint press release, the fact Seal decided to go on The Ellen Show today to talk about his split from Klum was a little surprising. Of course, the official reason the singer went on The Ellen Show was to speak about his brand new album, Soul 2, which dropped back in November.
Nonetheless, Seal was surprisingly candid about the end of his relationship. He discussed vows holding value with Ellen DeGeneres, and made it clear the press release statement he and Klum drafted was honest and from the heart. Currently, Seal is still wearing his wedding ring on his left hand, a move that is meant to celebrate and respect his and Klum's time together, but there is also the impression that perhaps the events have just not quite sunk in for the "Kiss From a Rose" singer.
You can check out the Klum-related portion of the interview, below.
Your Daily Blend of Entertainment News
Thank you for signing up to CinemaBlend. You will receive a verification email shortly.
There was a problem. Please refresh the page and try again.