Sublime With Rome Release New Song After 15 Year Hiatus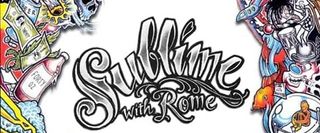 Oh, my. Whether or not you were a fan of Sublime, when their lead singer Bradley Nowell tragically died many people were in dismay. Don't get to upset though, Sublime is back with singer guitarist Rome Ramirez fronting the band and bringing in the stoned nostalgia from their old music. Throughout 2009 and 2010 the band, aptly named Sublime with Rome, played Smokeout Festival and toured the states playing only songs from the group when Nowell was still alive. Now, after two years of touring the reggae stars finished up their first album titled Yours Truly. To celebrate Sublime's first album in fifteen years, the band released their first single for audiences to get high to, check out "Can You Feel It":
The trio promised that they would continue the stoned ska music they made famous with Sublime. This track definitely keeps that promise. Not only is rapper Wiz Khalifa featured in this song, they also compliment the track with strange noises and groovy guitar licks. Sounds like Sublime to me. The addition of Khalifa definitely adds a groovy affect to the song, though it will be exciting to see what this band can do after 15 years of non-existence. For fans of Sublime, your prayers have been answered. Watch out for the new album hitting stores July 12th. Here is the track list to Yours Truly:
Your Daily Blend of Entertainment News
Thank you for signing up to CinemaBlend. You will receive a verification email shortly.
There was a problem. Please refresh the page and try again.