Surviving Sinatra, A New Bio Tells All From His Widow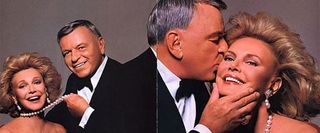 The Voice that was a dream has long since passed, but that doesn't mean his audience has. It's this very same audience that will swarm after the new book from Barbara Sinatra, Frank Sinatra's widow after 22 years of marriage. The one after Mia Farrow and Ava Gardner, like his fourth wife or so.
ABC News has a three page excerpt of the book, Lady Blue Eyes: My Life With Frank, which glosses over her marriage before Sinatra, with Zeppo Marx of the Marx brothers, her days as a Vegas showgirl and running into Elvis, and living next door to the man who would eventually seduce her. Now that's the stuff I'd like to see in New York Times Bestseller.
She also details about his infamous "Italian Tantrums" and how easily he could be diffused with a comedic one-liner. I'm guessing Barbara was a bit of a comedienne herself or she wouldn't have lasted as long. The excerpt also includes their first kiss and just how swept up she was in his charm. Hot damn, Frankie was the original player. Apparently, he kisses the lady and leaves her begging for more. What a tease!
Lady Blue Eyes is now available on Amazon.com (opens in new tab).
Your Daily Blend of Entertainment News
Thank you for signing up to CinemaBlend. You will receive a verification email shortly.
There was a problem. Please refresh the page and try again.