Taylor Swift Debuts Video For Hunger Games Track Safe And Sound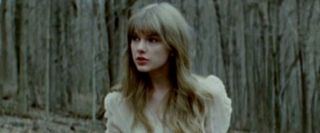 Since her debut, Taylor Swift has always been a pretty stellar musician, but in the past, her lyrics have not always been able to resonate with the widest of audiences. However, given the opportunity to write for the epic March movie release, The Hunger Games, Swift has pulled the rabbit out of the hat. A few weeks ago, the pop star released the audio for her Hunger Games track, "Safe and Sound."
The simple, melodic lullaby introduced an eerie lilt and a breathless yearning to Swift's voice that we had never quite encountered from the singer before. Now, the video for "Safe and Sound" has been released, and it, too, manages to pull something new out of Swift.
The video begins with the singer walking in a bare and desolate area, singing to herself. Throughout the clip we truly begin to feel the vastness of this empty space Swift is occupying, a space that should be frightening and somber in its emptiness, somewhat like Cormac McCarthy's The Road. It's not. By deftly sharing its space with the featured musical group The Civil Wars, who truly mesh with Swift's own vocals in "Safe and Sound" there is a feeling of togetherness and, above all, hope. It helps that within this desolate landscape, fans of the popular titles by Suzanne Collins will recognize some of the shapes and images wrought in The Hunger Games series themselves.
You can check out the new video, below, courtesy of MTV...
Get More: Taylor Swift, Safe & Sound, Music, More Music Videos
Your Daily Blend of Entertainment News
Thank you for signing up to CinemaBlend. You will receive a verification email shortly.
There was a problem. Please refresh the page and try again.