Usher and Ex-Wife Tameka Raymond Heading Back To Court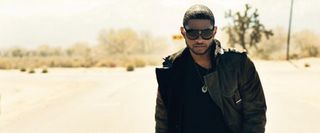 In 2009, after two years of marriage and the birth of two kids, Usher and then wife Tameka Raymond decided to divorce. Documents were filed in Georgia, and the sometimes arduous paperwork of separating from another individual began. Apparently, the whole thing worked out pretty well for Usher, who had a scandalously tight prenuptial agreement going into the marriage. The couple also managed to work out a joint custody agreement that should have ended everything on a decent note then and there.
Alas, it wasn't to be. Now a bitching fest has taken over the couple's relationship, beginning with Tameka Raymond and ending with Usher defending himself. According to TMZ, Tameka Raymond went back to court last month stating Usher is an unfit parent who frequently makes decisions without her full knowledge. Since the ex-couple shares custody, if she can back up her words with facts, her accusations could be a huge blow.
Usher has now filed a court rebuttal that is contrary to his ex-wife's claims. The man is stating his ex-wife's lengthy allegations are false, that he is a good and loving father to his children, and that he will fight to maintain his partial custody status. The couple will meet in court on February 27. Since Tameka Raymond has had grievances in the past, as well, it seems like the matter will not hold weight and should blow over quickly. However, without having fully fleshed out details, it's difficult to say. No matter what the truth is, here's hoping the two figure out their issues soon. No one deserves to have to show up for court multiple times over a score of years for divorce fodder. There are few things drearier and less fun.