Watch Justin Timberlake Join Alfonso Ribeiro In The Carlton Dance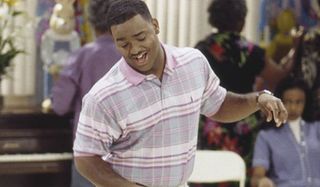 There are a few aspects of Fresh Prince of Bel-Air that every fan can remember. For one, there's the catchy opening song. That's a given. There are probably some out there who never even caught an episode of the Will Smith series and still know all the words to that classic. The other, of course, is the good old Carlton dance. Not everyone can do it; you need some flexible hips. But when Alfonso Ribeiro saw a likely dance partner, he had to break out his character's signature move.
Justine Timberlake and Alfonso Ribeiro were participating at the American Century Celebrity Golf Tournament in Lake Tahoe over the weekend when Alfonso Ribeiro got a little distracted by a Justin Timberlake jam playing in the distance. You can hear the two announcers claim the song distracted his golf swing, and while Ribeiro looks upset about the shot, when Justin Timberlake comes into frame, no one can stay frowning. The actor known for his annoyingly preppy Carlton Banks on the hit '90s sitcom appropriately brought him back to life on a golf course. And who better to share the spotlight with than a pop superstar known for his stellar dance moves.
The crowd cheered and both Timberlake and Ribeiro laughed along with the shaking of their hips, ending their quick dance number with a solid high-five. Who says you can't have a little fun while competing?
This isn't the first time Ribeiro has made us all feel nostalgic for Fresh Prince of Bel-Air. Just last year the actor participated on Season 19 of ABC's Dancing With The Stars. And obviously with moves like this, he took home the season win.
After Fresh Prince of Bel-Air, Ribeiro went on to compete in a slew of celebrity reality shows. Earlier this year it was announced that the 43-year-old actor would replace Tom Bergeron as host of America's Funniest Home Videos, but for the most part, the celebrity has been living off the success of Carlton Banks. I mean, we can't all be Will Smiths, am I right?
Your Daily Blend of Entertainment News