Watch Lil' Kim Call Nicki Minaj A Stupid Hoe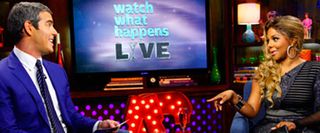 Nicki Minaj has had a couple of big weeks. First, she starred in the Super Bowl halftime show with Madonna and M.I.A. Then, she worked it in a featured performance at the Grammy Awards Ceremony. It has been four days since that latter gig and people are still talking about Minaj's performance. Which naturally irritates the hell out of Lil' Kim.
Lil' Kim joined Andy Cohen and guest star Willie Geist for a late night chat on Watch What Happens Live where Lil' Kim chatted about everything from her former stint in jail to Nicki Minaj's Grammy performance, which Lil' Kim supposedly missed. While the whole episode as a whole was pretty riled up, the crowning moment of the interview may have been a short conversation about Minaj's new single "Stupid Hoe," in which Lil' Kim called Minaj "a stupid hoe."
Prior to this, the battle between the two female rappers has mostly been relegated to not-so-nice lyrics in songs, which is what makes the interview so completely unexpected. Pop Blend will keep you posted if Minaj fires back with her own insult. Until then, you can check out the clip, courtesy of Bravo, below.