Watch Shia LaBeouf Diss Transformers In Epic Freestyle Rap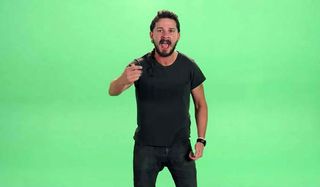 Shia LaBeouf is at it again, showing off his mad skills, and artistic verse, this time in the form of freestyle rap. Not only did the actor/performance artist/motivational speaker/rat tail enthusiast demonstrate that he's the "best to do this since Tupac" but he also had a few words to say about a certain blockbuster franchise from his past. Check it out.
Professing that he was indeed the "best in the west" for freestyle rap, the 29-year-old sure did look comfortable spitting some rhymes. Upon asking the audience to give him some words at one point, someone mentioned Transformers, to which LaBeouf had the best response:
Yeah you are, Shia, and you won't let us forget it. Since Transformers the young actor has done a complete 180, going from the lead in a major Hollywood blockbuster, to becoming a performance artist helping art school students with film projects. And as weird as he may be, at least LaBeouf seems very content in his image. And not for nothing, but this freestyle rapping session is actually pretty impressive, and everyone surrounding him was way too intimidated to step up to the plate and take LaBeouf on.
According to The Independent the video clip was taken in South Dakota at a swimming spot many young people frequent. It is believed to have been taken before LaBeouf sustained his injury on set of his new film American Honey. The actor was hospitalized for the incident with hand and head injuries which required 20 stitches and 13 staples. The accident occurred when LaBeouf was filming a scene where his character puts his head through a glass window, and well, knowing LaBeouf, he probably just went for it.
Whether or not LaBeouf has been exploring career options in the rap industry, we can't be sure. But it certainly does sound like he practices, or has rap battles, a lot. Either way, the guy loves to perform, and we'll be here to continue watching.
Your Daily Blend of Entertainment News
Your Daily Blend of Entertainment News
Thank you for signing up to CinemaBlend. You will receive a verification email shortly.
There was a problem. Please refresh the page and try again.