Why Prince And Sony Could Wind Up In Court Over A Voice Contestant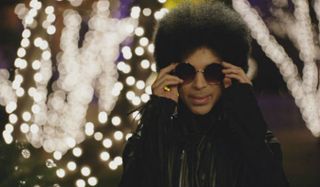 Drama in the music industry has erupted ever since a free downloadable album was released on Monday by singer Judith Hill from The Voice. The singer, who made a name for herself back in 2013 on the singing competition reality series was quickly signed to a label after her time on the show with Sony and producer Jolene Cherry. Hill who apparently had an exclusive recording deal with the partners, sneakily met with Prince, recorded an entire album, and released it. Now, Sony and Cherry are going after Prince with serious vengeance.
According to TMZ, the collaboration between Judith Hill and Prince had been rumored beforehand. Outlets reported that Sony and Jolene Cherry, the famed talent scout who discovered Lady Gaga, had heard rumors of recording sessions and gave Hill a warning. But, on Monday, an 11-song album was unexpectedly released for free online and reportedly after Sony and Cherry found out, they went right to the source, suing Prince for damages. Because of the release of the album as Hill's debut, Cherry has filed a complaint alleging intentional interference with contractual relations, according to The Hollywood Reporter. With all of the press that came along with the release, the complaint basically states that it is impossible to ever release Hill's 'first album' again and reach that initial press, and because of that, compensation needs to be met.
The story may not stop there, though. Apparently there's not one, but two lawsuits in regards to Judith Hill this week. The singer, who began her rise to fame performing backup vocals for artists such as Elton John, Michael Jackson and Stevie Wonder, filed her own lawsuit earlier this week. In Hill's lawsuit, which lodged into the New York Supreme Court, the singer states that after the record deal was signed, Sony cut ties with Cherry who apparently "proved to be incompetent, erratic, unstable and wholly unable to perform the obligations that Ms. Hill had been promised both orally and in writing". Cherry also allegedly said she was sick of the music business and 'abandonded' Hill, so the singer went of and did her own thing.
But that's not all. A few months back, Hill was in the spotlight during the timed release for the controversial comedy, The Interview when Cherry wanted the young singer to do a parody song called, "James Franco". And when Sony got hacked, Cherry allegedly hired an 'imposter publicist' to plant a story about the song in the New York Post. The newspaper ran the story with the headline "Sony singer writes 'love letter' to Kim Jong Un". In response to this scandal, Hill has also included details about the incident in her lawsuit. The complaint states:
Prince has yet to respond to the lawsuit against him. And more information is sure to come out on these scandalous lawsuits in the next few days. Whether or not Hill had the right to ditch her contract and work with Prince, we can't be sure. But it's surely not a mess the Prince would casually step into.
Your Daily Blend of Entertainment News