Salt Lake City is a metaphor, don't you get it?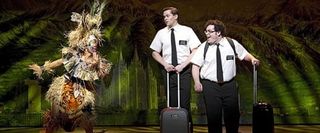 Yesterday, just a few hours after my mom and three of her friends stepped off the plane from South Carolina, we made it to a matinee of Book of Mormon, the Broadway show so insanely popular I had her buy the tickets in February. Written by South Park raconteurs Trey Parker and Matt Stone along with Avenue Q creator Robert Lopez, it snagged 14 Tony Nominations last week despite featuring a musical number whose title translates to "Fuck You, God." Yep, it's from the South Park guys all right.
It's truly special to hear your mom laugh uproariously at the line "I have maggots in my scrotum," but Book of Mormon is everything the rave reviews have promised no matter who you see it with. After I saw a 25 minute preview of the show back in January I wrote that it was "sheer musical joy," and it's amazing how much that energy carries over into the full two-hour show. I'm a complete geek for musical theater and was thrilled by the amount of musical references and knowledge that went into every single number-- the big first-act closer a big rock song like something you might find in Rock of Ages, the first duet between the two leads a direct riff on "Defying Gravity" from Wicked. But just like an episode of South Park, it goes way beyond lazy parody to become its own satisfying narrative, with characters you actually care about and a surprisingly soft heart toward the religion at its center. There's a reason that Mormons are as wild about the show as everyone else.
I'd tell you to drop everything and buy a ticket to experience the musical fresh, but tickets are hard to come by and expensive; the next best option is to stream the entire cast recording at NPR; you don't get the amazing sets of "Spooky Mormon Hell Dream" or the pink sparkly vests worn by the Mormon missionary chorus during "Turn It Off," but I was a teenager who listened to a lot of cast recordings for shows I never saw, so you'll be fine. And given how big a hit it is so far, you'll probably be able to catch Book of Mormon on Broadway for years and years to come.
Yeah, I know this post had nothing to do with movies. So here you go: when Book of Mormon gets optioned as a film, you heard the rumor here first.
Your Daily Blend of Entertainment News
Thank you for signing up to CinemaBlend. You will receive a verification email shortly.
There was a problem. Please refresh the page and try again.