The Best Streaming Sticks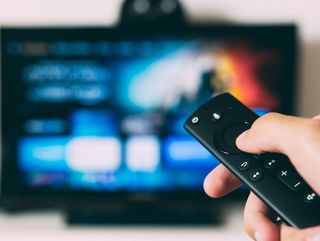 Editors Pick
Best Overall Streaming Device
This Alexa-enabled streaming stick has great 4k video streaming quality, a lightning-fast user interface, and endless content options in a small, unobtrusive package.
The 4K Fire TV Stick is the best all-around streaming stick we've used. It supports 4k video, HDR10 and Dolby Vision, and can be easily controlled with your voice using the Amazon Alexa app. The 4k Fire Stick is small, affordable, fast, and has a sleek design. Set up is easy: plug it in, connect to your WiFi and log into your Amazon account.
Once you're up and running, you'll find thousands of apps to choose from. You don't have to have Amazon Prime to use this stick, but if you do, you'll find endless amounts of free content to stream. Note: Apple and Google streaming channels aren't available on this stick, but pretty much every other major streaming channel is supported.
Key Features
4K Resolution
HDMI Video Connection
Voice-Controlled Search
Best Runner-Up
Best Streaming Device User Interface
The Roku boasts a great user interface with a long-range remote control.
Roku has been a strong player in the streaming stick game for the past few years, and this stick is no exception. The depth of channels and user interface make it a top pick for CinemaBlend staffers. This is hands-down the easiest interface to navigate; one CB staffer reports, "my five and three year old can both easily get to their favorite shows in under a minute. Plus, they really like when the Roku letters dance upon initial startup."
Roku has the biggest selection of the apps CinemaBlend staffers deemed most users will actually watch (aside from Apple's iTunes). On the cons side, the set up is a little longer than some of the other apps we tested and the voice search isn't as sophisticated as others.
Key Features
4K Resolution
HDMI Video Connection
Voice-Controlled Search
Best For Casting
Best Device to Pair with your Phone
This stick is best for users who want to easily cast whatever is happening on their mobile devices to their TV screens.
The Chromecast is a good value streaming option, but doesn't offer a fancy interface or the bells and whistles of some of its competitors. It's not a stick form, but a small disc shaped dongle that plugs directly into the back of your TV. It's controlled from your mobile device and therefore allows you to easily cast whatever you'd like from your phone. One of the best use cases we have for the Chromecast is for travel; it's small, portable, and allows you to stream content from your mobile devices on your hotel TV with ease.
Key Features
4K Resolution
HDMI Video Connection
Voice Control with Google Assistant
For Apple lovers
Best Use Of Your iTunes Library
If you already have an extensive iTunes video and music collection, the Apple TV is your best bet.
If you've spent a lot of time and money building out your iTunes video collection, your best bet is the Apple TV. This is the only streaming device we tested that currently allows access to this content. In addition, Apple is investing heavily in its own programming, so we expect to see an influx in great content over the next few years.
Key Features
4K Resolution
HDMI Video Connection
Voice Control with Siri
Why do I need a streaming stick?
While it's true that most smart TVs now come with some streaming apps built in, they do not have all the options available. If you want to specifically watch content beyond Netflix, Prime or Hulu, you'll want a device to enhance your options. When you switch to a streaming device, you will have thousands of channel options, as opposed to your TV's handful of built in apps.
How hard is it to install?
All of the options on our list connect via HDMI and have user-friendly set up functionality. You can be up and running with each device on our list in under ten minutes.
What Major Channels Come Standard?
When it comes to streaming, content is king. On all of the devices we recommend, you can expect to get the major streaming services as paid apps:
Sirius XM
Pandora
PBS (and PBS Kids)
Playstation Vue
DIRECTV NOW
Crackle
WatchESPN
Disney +
Amazon Prime Video
Sling TV
Showtime
HBO
Hulu (and Hulu Live TV)
Netflix
Tip: To get the most out of your streaming stick, make sure your wireless router with high-speed capabilities. If you want to stream in 4k, your bandwidth should start at 15Mbps.
Your Daily Blend of Entertainment News
Thank you for signing up to CinemaBlend. You will receive a verification email shortly.
There was a problem. Please refresh the page and try again.