Stop-motion animation is a remarkable art form. There is a certain luddite aspect to it, as the powers of modern computers could render in hours what it takes weeks for artists to physically build. But there is arguably no cinematic medium greater at conveying levels of detail or handmade craftsmanship. It ultimately makes for a unique screening experience, as you find yourself drawn into each sumptuous frame as you're embedded in the story.
Of course, not every filmmaker can pull off making a stop-motion animated movie... but writer/director Wes Anderson absolutely can. In 2009 he made his first bold move into the medium, constructing the brilliant, funny and beautiful Fantastic Mr. Fox, and now he's back with Isle Of Dogs -- a film that in many ways represents the best aspects of Anderson as an artist; pairing his wonderful auteur vision with a wholly original, weird world born out of inspiration from man's best friend and an immense appreciation for Japanese culture and art.
Based on a story developed by Anderson, Roman Coppola, Jason Schwartzman, and Kunichi Nomura, Isle of Dogs takes audiences 20 years into the future, as Major Kobayashi (Nomura) of Japan, a renowned cat-lover, announces that outbreaks of snout flu among the canine population has made them too dangerous to be among mankind. Despite the opposition party arguing that a cure is possible with proper time and research, it is decreed that all dogs be moved to Trash Island, starting with Spots (Liev Schreiber) -- a dog from Kobayashi's own household who watches over the mayor's young ward, Atari (Koyu Rankin).
Six months later, the entire dog population has moved to Trash Island, all of them suffering from the effects of snout flu while just trying to survive. Chief (Bryan Cranston), Rex (Edward Norton), Boss (Bill Murray), Duke (Jeff Goldblum) and King (Bob Balaban) run in a pack together -- despite all of them being alphas -- but find their daily routine searching for scraps of food interrupted when a small plane crashes nearby. It's discovered that the young, injured pilot is none other than Atari, who has gone against his guardian's wishes in hopes of finding his lost dog. A language barrier separates them (Atari only speaks Japanese while the dogs speak in English), and Chief, a former stray among a group of domesticated friends, doesn't feel the rescue is his responsibility. But before long, they all join together to venture across the island and discover what really happened to Spots.
Because Fantastic Mr. Fox was an adaptation from a beloved children's novel, Isle Of Dogs marks the first time that Wes Anderson has truly been able to physically build a world from the ground up -- and it's such a mesmerizing experience that I internally questioned being able to properly review it having only seen it once. The film is in equal parts inspired by the works of Akira Kurosawa and Hayao Miyazaki, respectively reflected in the dark, stark city and the fantastical, animal-controlled Trash Island, but it also never lets you forget that this is a Wes Anderson experience with its use of creative split screen, captioned montages, and stunning, long panning shots. Details like gusts of wind flowing through fur, colorful light refracted in broken bottles, and the intermittent dog sneeze feel remarkably precise while always feeling entirely natural; and the use of the medium even makes silhouetted conversations and cartoon-like, dust cloud-obscured brawls feel special. It can get to the point where it practically feels overwhelming -- especially because of the abundant use of subtitles -- but it just suggests that the second viewing will be that much more rewarding.
Aesthetically, Isle of Dogs brings to the table much of what film fans have grown to love about Wes Anderson's work, but there's also a certain amount of maturation from the storyteller, as well. The writer/director has long been associated with dysfunctional family narratives like those found in The Royal Tenenbaums, The Darjeeling Limited, and more, but this film, following The Grand Budapest Hotel, shows Anderson legitimately branching out (obviously the not-America setting is a big part of that as well). Crafting some fascistic parables, the movie is certainly more political than any of his past work, but rather than feeling heavy-handed or overbearing, it's balanced by his natural quirk and charm to be perfectly digestible. It's an excellent evolution for the filmmaker, and a perfect clap-back to anyone who ever called him one-note.
Of course, it also wouldn't be a Wes Anderson film without his troupe of regular players -- which is a group enhanced by a number of new stars joining the family for Isle of Dogs. The strongest role unquestionably belongs to Bryan Cranston's Chief, who is supported with a deep backstory, effective arc, and legitimate transformation -- and while the other characters aren't drawn as boldly, they're still entertainingly well-utilized. Among the main group of dogs, each has their own special affectation that helps them stand out, from Goldblum's gossip-hungry Duke to Norton's plan-devising Rex, and while they don't take over the movie at any given moment, they do make for fantastic background. What's more, Anderson's familiarity with each of their voices means that he knows the exact kind of material they can deliver, and the result is laughs from beginning to end.
Isle of Dogs is the ninth film from Wes Anderson, and an excellent showing, telling fans that he has many more and many different kinds of stories still to tell. Not only is it a fantastic return to the stop-motion animated medium, but with the help of an incredible number of talented artists and performers, it's a movie that plays on the best of the writer/directors sensibilities, while accessing entirely brand new areas of it.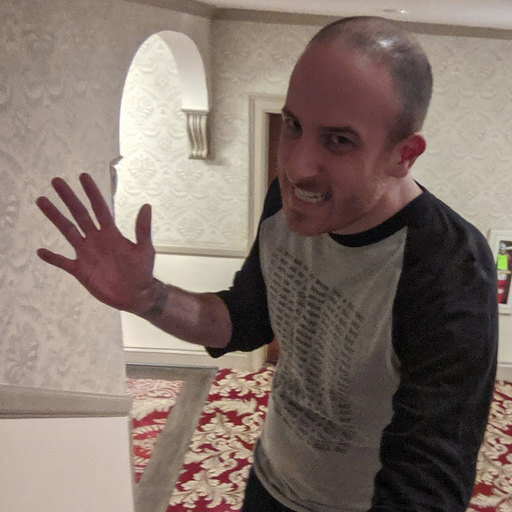 Assistant Managing Editor
NJ native who calls LA home and lives in a Dreamatorium. A decade-plus CinemaBlend veteran who is endlessly enthusiastic about the career he's dreamt of since seventh grade.