Star Trek's Jonathan Frakes Deserves Awards Recognition For His Performance In Picard Season 3
The actor really outdid himself.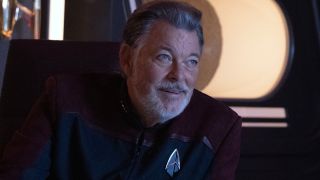 (Image credit: Paramount+)
Warning! The following may contain SPOILERS for the Star Trek: Picard episode "No Win Scenario." Read at your own risk!
Many fans see Star Trek: Picard Season 3 as the farewell to Patrick Stewart's Jean-Luc Picard. The actor honored his three-season commitment to return as the character, and we're in the midst of a final season with a cast that's just one Wil Wheaton shy of being the full crew of The Next Generation. I expected to feel nostalgia and happiness for Stewart's final performance, but what I didn't expect was to be campaigning for Jonathan Frakes to win an award for his work as Will Riker.
Jonathan Frakes took things to another level in his latest return to Star Trek: Picard, and is doing more than just holding his own in Season 3 in what is essentially a co-leading role during the first half of the season. Here's what I've seen so far that has me wanting Paramount+ to push for Frakes this coming awards show season and get one of Star Trek's biggest names an award of some kind.
Jonathan Frakes Is Holding His Own In Season 3 Alongside Patrick Stewart
I want to start this out by saying that Jonathan Frakes has always been a good actor, and Riker was one of my favorite characters on Star Trek: The Next Generation. With that said, Frakes has devoted himself more to directing in the latter years of his career, while Patrick Stewart made the transition to film via other projects and the X-Men franchise. Stewart has had more experience between the two in acting over the past decade, but you wouldn't know it based on Star Trek: Picard Season 3.
Riker has a heavy presence in Season 3, whereas he was hardly in Season 1. When I interviewed Jonathan Frakes recently about how he found out just how substantial his role would be in the final season, he said he'd been tipped off on Riker's story expanding while directing in Season 2:
Star Trek: Picard Season 3 starts out with Riker joining Jean-Luc's mission to rescue Beverly Crusher, though that's not his sole motivation. Riker confessed that he and Deanna Troi's marriage has felt strained since the loss of his son, and he hasn't been able to pull himself out of it.
It may feel like Terry Matalas strapped a new story and gravitas to Riker, but as Jonathan Frakes pointed out during our interview, this all goes back to Season 1. I asked Frakes about how he found the character further since his portrayal in Season 1, and he said he really didn't have to thanks to all that was established previously:
Jonathan Frakes had Riker's backstory already, so once he blended that in with Season 3's longer scenes better showcasing the character's decades of Starfleet service as a captain, it all came together. Perhaps Frakes had this all along, and it just took the opportunity for him to live in these scenes alongside Patrick Stewart's Picard for fans to really see it.
What Makes Jonathan Frakes Performance Award-Worthy?
Gene Roddenberry's vision of Star Trek helped propel the franchise to new heights and make The Next Generation a success. With all of that being said, not everything he wanted for Trek has aged well in hindsight. For example, his request to have no interpersonal conflict between the crew didn't allow the actors to really flex their talents the way they could.
It also caused some people to get up in arms in Star Trek: Picard's "Seventeen Seconds," in which we saw Riker and Picard get into a heated argument on the bridge. Many claimed that the fight felt unrealistic given their past exchanges in TNG, but I'd argue it's the most realistic we've ever seen either character depicted.
Sure, it's a different look to see them fight, but Riker has never been afraid to get loud when his authority is challenged. In that moment, he's very much the RIker I've always known, with the difference being he's taking out his aggression on a man in which the line between friend and superior officer has blurred heavily. That's not the way you yell at a stranger, that's the way you yell at a loved one who hurt you.
Jonathan Frakes has transformed Riker from The Next Generation to Picard in a way that feels more familiar and lived in than any character we've seen reprise their legacy role. I look at his performance as a fan and I see both the character from decades prior, but also the man he became decades later. No doubt that's thanks in part to some phenomenal script-writing and a creative team that knows its characters, but it's also a credit to Frakes and what he brings to the role.
The only downside of this is that it's a performance that's really only noticeable to long-time Star Trek fans who experienced Jonathan Frakes throughout the years. Beyond the fact that Star Trek have never gotten a ton of love at the Emmys for performances, I question whether the average mainstream voter would look at his performance in Picard and recognize just how great it really is.
I've seen a lot of revivals and reprisals in this era, and while nostalgia and returns are always great, the performances are usually just fine. Tobey Maguire and Andrew Garfield's returns as Spider-Man weren't phenomenal, and the Fuller House cast did a fine job reprising to their Full House roles. I just can't express how much Jonathan Frakes knocked it out of the park with this role and continues to do so. We're not even to the end of Picard Season 3, so there are still weeks for him to make a stronger case. I can't say for sure if he'll win anything, but I'm officially starting the campaign now for folks to start considering it.
Star Trek: Picard streams new episodes on Paramount+ (opens in new tab) on Thursdays. Anyone with a Paramount+ subscription definitely needs to check out Season 3, and then maybe catch up on all the other new shows Star Trek has delivered in the past years if they haven't already.
Your Daily Blend of Entertainment News
Mick likes good television, but also reality television. He grew up on Star Wars, DC, Marvel, and pro wrestling and loves to discuss and dissect most of it. He's been writing online for over a decade and never dreamed he'd be in the position he is today.