These 10 Biggest Loser Moments Will Make You Feel All The Emotions In A Row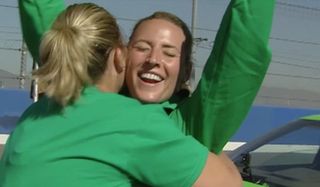 For years, The Biggest Loser has helped contestants to drop a significant amount of weight. While the end results are often beneficial, the road to weight loss can be a tough one, as evidenced in this new video from NBC, which highlights some of the show's most empowering and emotional moments. Check them out, below.
The Biggest Loser calls the moments in the video the show's "10 Most Memorable," and they will seriously take fans through a slew of different emotions. In the video, we get to see frustrated trainers and relive Bob's big blowout with Joelle. There are also moments where various contestants mentally hit a sweet spot in the competition, and just begin crushing, as evidenced with Tara pulling a car in order to obtain immunity.
There are emotional backstories from many of the contestants, and plenty of triumphant moments, too. But what's most striking to me is The Biggest Loser's placement of each of the clips in this list. One second you'll be crying about a tragedy in one contestant's life and the next second you'll be stoked to see a contestant conquer a fear or complete an obstacle. It's certainly a rollercoaster.
The Biggest Loser put together the video to celebrate the biggest moments the show has seen since it first began airing a decade ago. During the show's 10 years on the air, NBC's reality competition series has seen more than a hundred cast members work to lose weight and become fit, competing for a cash prize. It hasn't always been immune to controversy. The rapid weight loss and the environment have been criticized before, but when this show is on, it's certainly emotionally raw. Regardless of whether the approach is perfect, one thing is very clear: the contestants love being on the show.
Perhaps the theme that recurs the most throughout the video presentation is redemption. Many of these moments involve contestants fighting through and coming back because while everyone is technically competing to win the grand prize, they're also all competing to change their lives. There is more value to finishing in second place on The Biggest Loser than on almost any other reality competition. It's not all about the money. It's about the chance to get to stay and work with the trainers and fellow cast members every single day on shedding pounds and achieving something wonderful and healthy. In the end, that will probably be the show's greatest legacy.
This season, NBC has brought together a cast featuring former athletes who later put on weight. The new season also features "Comeback Canyon," a device similar to Top Chef's "Last Chance Kitchen," which follows recently cut contestants as they compete in a secret side competition for a slot in the finals. You can catch new episodes on Thursdays at 8 p.m. ET.
Your Daily Blend of Entertainment News
Reality TV fan with a pinch of Disney fairy dust thrown in. Theme park junkie. If you've created a rom-com I've probably watched it.
Your Daily Blend of Entertainment News
Thank you for signing up to CinemaBlend. You will receive a verification email shortly.
There was a problem. Please refresh the page and try again.