10 Great TV Shows You're Probably Not Watching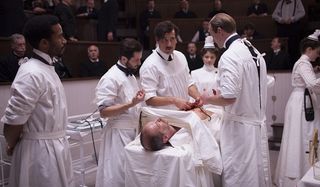 During the holidays, there's a good chance you'll find yourself traveling, stuck at a family member's house or relaxing at home on a day off of work/school. And what better way to spend free time like that than checking out a TV show that you've probably been missing for a while? Sure, you could talk to your family or whoever, but none of them were specifically written to entertain you.
Here are 10 shows whose names are probably familiar even though you've somehow never gotten around to checking them out. Some are new, some are established, and all of them are criminally underwatched. Take notes.
The Knick
Cinemax doesn't often get brought into the conversation about top-quality networks, but the admittedly few original programs that debuted there in the past few years have been awesome. Standing atop it all with a heroin-induced gaze is The Knick, a turn-of-the-century medical drama quite unlike any other hospital show before it. A show partly about the staggeringly bothersome path to advancement in medicine and partly about the goings-on of Clive Owen's chief surgeon Dr. Thack and the racially-triggered experiences of Dr. Andre Holland – a simplified version of things, to be sure – The Knick is enthralling, gorgeous and downright nasty at times. Plus, it boasts the always intriguing Steven Soderbergh as a director on every episode.
With a few episodes left in Season 2, The Knick airs on Friday nights on Cinemax.
Difficult People
If you took all the snark out of all the other shows you watch on TV and jammed it inside a box, it would probably add up to merely the first act of a Difficult People episode. Created by writer/comedian Julie Klausner, this Hulu comedy takes Klausner's Julie and Billy Eichner's Billy and thrusts their self-important opinions and celebrity-anchored worldviews (that are maddeningly well-written) on everyone and everything around them, though it usually all comes back to destroy them in the end. Comedian James Urbaniak stars as Julie's unassuming boyfriend Arthur, and SCTV alum Andrea Martin plays Julie's overbearing mother (and she's spotless). Live vicariously through sarcasm.
All eight episodes of Difficult People Season 1 are available on Hulu, and it has been renewed for Season 2, which will be released next year.
The Leftovers
By the time it's all said and done, people should equate Damon Lindelof's name with the emotional invigoration machine that is HBO's The Leftovers, rather than the far more popular though far more flimsily mysterious Lost. Barely anyone talks about The Leftovers, perhaps due to repressing the depressing paths Season 1 took, but this is easily one of the best shows on TV of any time period. Season 2 has taken Justin Theroux's Kevin Garvey and his family to a new town, where bad things happen (naturally), with the writing and pacing making things even more psychedelic and random than they were before. Carrie Coon and Ann Dowd remain sublime.
Currently in the middle of its stellar Season 2, The Leftovers airs Sunday nights on HBO.
Mr. Robot
If a project can be referred to as a "hacker drama," there's a good chance it will already look dated by the time you finish watching it. USA's Mr. Robot, the network's best show in years, is the clear exception. The show is definitely centered in a computer-based world, as it's about a cybersecurity engineer joining an underground hacker group to take down a giant corporation, but the tech talking is overshadowed by the anarchic tone and the talents of Rami Malek as the paranoid and clinically depressed Elliot Anderson, who gets mixed up in deeds that bring all the suspense and tension of anything else on TV. Plus, the show answers the question "What's Christian Slater doing these days?"
Mr. Robot wrapped Season 1 earlier this year, and was renewed for Season 2 to debut next year. You can currently watch the entire first season on USA's website.
Crazy Ex-Girlfriend
Created by star Rachel Bloom and Aline Brosh McKenna, Crazy Ex-Girlfriend is a small miracle of a show that follows a psychologically fragile woman going against all odds to reconnect with a guy she fell for at summer camp, and it's populated by broad characters and ridiculous musical segments. On paper, it implied a possible disaster, but in action, Crazy Ex-Girlfriend is nothing but successful. The jokes hit every kind of comedic subgenre, the expertly-crafted music sequences are hilarious and catchy, and as Rebecca Bloom, Bunch earns both sympathy and incredulity in heaping doses. Vincent Rodriquez III is unexpectedly great as the mini-dude-bro ex Josh, and Donna Lynne Champlin nails every moment as Rebecca's friend, coworker and constant enabler. The CW needs more shows like this, and I don't mean "low-rated."
Crazy Ex-Girlfriend's Season 1, which just got more episodes ordered, is currently airing on The CW on Monday nights.
The 100
The past few years have been inundated with stories about teenagers facing problems in post-apocalyptic scenarios, and not all of them have been great. Thankfully, 100 has become a downright awesome take on the sub-genre, starting out with the premise of "troubled teenagers are sent to Earth a century after a nuclear war destroyed most of civilization," and then molding itself into a tight and sometimes brutal thriller where no one ever truly seems safe – there are cannibals here, people! It helps that the characters are interesting and fleshed-out and not just attractive people being attractive with dirt on their faces.
The 100 Season 2 ended earlier this year, and Season 3 will premiere on The CW on Thursday, January 21, 2016.
You're the Worst
Comedies about relationships between mentally selfish people are nothing new, but those kinds of shows don't always shoot for an authentic vibe. You're the Worst, however, feels all too real in portraying the up-and-down-and-inside-out relationship between Chris Geere's Jimmy and Aya Cash's Gretchen, even when things go way over the top. There's an emotional genuineness to how Gretchen's depression and Jimmy's insensitivity are explored that both informs the comedy and reminds viewers that not everyone on TV is supposed to be perfect. After watching, you'll immediately run out and start up your own Sunday Funday, but be wary of just going to the same places these characters do.
You can find the remaining episodes of You're the Worst Season 2 on FXX on Wednesday nights.
Manhattan
Hearing that Manhattan is a show about the creation of the first atomic bomb in the 1940s, you might think that's full of explosions and war battles, but that's not the case at all. (Maybe its dismal ratings would rise if Manhattan dumbed itself down for that kind of storytelling, but we're glad it's not.) The superbly casted show is a methodical and darkly comedic character study about the people living in the sectioned-off community in Los Alamos, where characters like Drs. Frank and Liza Winter, along with Dr. Charlie and Abby Isaacs, deal with the complexities facing both their high-pressure jobs and their strained marriages. It's smart, it's tense, and it depicts how troublesome mandated isolation can be.
Manhattan is currently in the middle of Season 2, which can be watched on Tuesday nights on The CW.
W/Bob and David
If you're a cool person, then you probably spent part of your life watching and quoting Mr. Show like there was no tomorrow, all while ruing the day HBO brutalized us and ran it out of existence. The life-changing entity that is Netflix reteamed Bob Odenkirk and David Cross for a new batch of ridiculous sketches that goes under the name W/ Bob and David, and the only things that are different are the cast's ages. Otherwise, this ensemble's comedy still hinges on great jokes and surreal situations, and the cast is still as unflappingly energetic as they ever were. If there's a complaint to be had, it's that there are only 4 episodes (and a great behind-the-scenes special).
All four episodes of W/ Bob and David are currently available on Netflix, which should hurry up and renew it.
Rectify
You always hear Breaking Bad and The Wire mentioned when people talk about the greatest shows of all time, and Rectify absolutely needs to come up more often. SundanceTV's first foray into scripted programming, Rectify tells the exceedingly dark and discomforting story of Aden Young's Daniel Holden, who returns to his hometown after spending almost 20 years on death row for the wrongful conviction of a rape and murder. Watching Daniel adjust to modern life is both painful and inspiring, as his assimilation is all but simple, since there are many townsfolk who still believe he's guilty. The best part is, despite spending the majority of the narrative time with Daniel, even viewers are unsure of just how innocent he is. Excellence.
Rectify finished Season 3 earlier this year on SundanceTV, and will return for Season 4 in 2016.
Head to the next page to let us know which of these shows you think needs more viewers.
This poll is no longer available.
Your Daily Blend of Entertainment News
Assistant Managing Editor
Nick is a Cajun Country native, and is often asked why he doesn't sound like that's the case. His love for his wife and daughters is almost equaled by his love of gasp-for-breath laughter and gasp-for-breath horror. A lifetime spent in the vicinity of a television screen led to his current dream job, as well as his knowledge of too many TV themes and ad jingles.
Your Daily Blend of Entertainment News
Thank you for signing up to CinemaBlend. You will receive a verification email shortly.
There was a problem. Please refresh the page and try again.