10 TV Remakes That Miraculously Don't Suck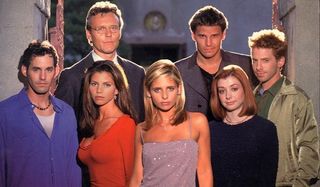 We're currently in the middle of a remake revolution on the small screen, and there are roughly a billion projects currently in differing levels of development. Every time a new one gets announced, it's predictably met with groans and complaints that there are no new ideas anymore – despite the fact that there are dozens and dozens of new ideas coming out every year – but we should always remember that there are quite a few examples of remakes that have indeed gone right.
Here are 10 television remakes of TV shows and movies that managed not only to avoid becoming instant disasters, but were actually pretty damned good, if not great. So let's hope that no one tries to remake them again in the future, lest they risk the third time being a non-charm.
The Office
To me, Ricky Gervais and Stephen Merchant's The Office is one of the most perfect TV series to ever exist, and part of that is because of its relative brevity. The American remake sadly took a little too longer to get its entire story told, with select cast members coming and going, but it was still a fantastic ride there for a while. With stellar performances from Steve Carrell, John Krasinski, Jenna Fischer, Rainn Wilson and, well, everyone else, The Office spun Dunder Mifflin into a household name and Toby Flenderson into one of primetime TV's most bullied characters. Let's all pull a bottle of vodka out of Meredith's desk and toast this show's success.
Battlestar Galactica
First created in 1978 by Glen A. Larson, Battlestar Galactica was a shortlived sci-fi show that inspired protests when it was canceled. It was remade in 2003, with a full series spawning from a hugely popular miniseries, and though it lasted four seasons, people also flipped out when it came to an end, although it wasn't technically canceled. The tale of Survivors vs. Cylons was an addictive pleasure for genre fans and general fans alike, thanks to solid writing and great performances from actors like Edward James Olmos, Katee Sackhoff and Mary McDonnell, among many others. Attempts were made to continue and spinoff the story, but nothing will presumably be as solid as Ronald D. Moore's initial recreation.
The Mr. Peabody and Sherman Show
While everything involved with Jay Ward's classic Rocky and Bullwinkle Show was superb, my favorite part was always seeing Mr. Peabody and Sherman popping into the time machine for their joke-filled history lessons. This year's CGI feature was much better than expected, and the new Netflix series released last month is as enjoyably wacky and mildly informative as I would have hoped, with Max Charles reprising his role of Sherman and SNL vet Chris Parnell taking over as the genius mutt. The set-up is now a variety show, with a plethora of history's finest popping in to wax on about the past in fun ways. Plus, musical guests like Ra Ra Riot and Jukebox the Ghost stop by for original songs.
Buffy the Vampire Slayer
I don't know about you guys, but I love the 1992 film Buffy the Vampire Slayer. That said, it's hard to argue that it holds even the smallest candle to the eventual TV series, created by the film's screenwriter (and pop culture icon) Joss Whedon. When combined with spinoff Angel, the Buffy-verse has one of the deeper mythologies of any TV show out there, and the fanbase is as hardcore as it gets. And who can blame them? With a sizeable cast including Sarah Michelle Gellar, Anthony Stewart Head, David Boreanaz, Alyson Hannigan and many more, this series of vampires, ghosts, demons and more works both as a fun high school drama and an intense genre thriller. If only Donald Sutherland and Paul Reubens were in it.
Worst Week
There's a good chance you don't remember Worst Week, a one-season CBS series from 2008 that stretched the premise of the British series The Worst Week of My Life, but it was a delightfully silly and cringe-worthy show that felt quite unlike anything else on the network. The Americanized version was definitely goofier and less dry, with winning performances from Kyle Bornheimer, Erinn Hayes, Nancy Lenehan and Kurtwood Smith, along with a revolving door of recurring stars. The plot initially involves the central couple hiding their pregnancy and wedding from Hayes' parents, with just about everything imaginable going wrong in the process, and one of the best parts of watching was being grateful this wasn't your life.
The Twilight Zone
Don't get me wrong here, nothing is going to ever beat Rod Serling's original Twlight Zone as far as anthology series go. But what the 1985 return had going for it was modern horror craftsmen that were able to deliver twists and scares that only the 1980s could. Lasting three seasons, this Twilight Zone featured episodes that were directed by horror vets such as Wes Craven, Joe Dante, Paul Lynch, William Friedkin and many more, with stories written by masterminds like Ray Bradbury, Harlan Ellison, J. Michael Straczynski, and even George R.R. Martin. This also gave the world the awesome adaptation of Richard Matheson's "Button Button" that was later turned into Richard Kelly's wild-as-all-balls The Box.
Getting On
Every so often, HBO decides to look outward for content, and the British comedy Getting On was just the right show to adapt for American audiences. With all the generic hospital dramas out there, it was great to get a show that took a satirical and pointed look at an extended care unit and its often put-upon workers, and the show is carried perfectly by a power-seeking Laurie Metcalf, an aloofly dedicated Alex Borstein and the backbone-forming Niecy Nash. You don't often think that a show revolving around old people and death could be described as delightful, but Getting On hits on all levels.
Fargo
In what initially sounded like one of the most ill-formed ideas for an adaptation, FX and creator Noah Hawley decided to spin the Coen brothers' classic darkly comedic thriller Fargo into an unrelated anthology series. Surprisingly, it quickly turned into one of the best shows on TV, boasting giant ensemble casts in both of its first two seasons. In both cases, Northern small town mentality goes head to head with violent criminals and seemingly good people get caught up in horrible situations. The excellent performances are too numerous to count, and even though the only tangible thing it shares with the film is the opening "true story" titles, the sensibility is very much on par with the Coens' vision.
Weird Science
Here in 2015, the thought of USA Network adapting a popular John Hughes film sounds like a bad idea at best, but somehow the stars aligned in 1994 to make a small screen version of Weird Science incredibly enjoyable. Boasting Parker Lewis Can't Lose writers Tom Speczialy and Alan Cross as creators, TV's Weird Science remains far more enjoyable than the movie to me, as the concept of using a computer to create the perfect woman fit right in with the rest of the early '90s. The show obviously had a chance to go into all kinds of story directions that the film couldn't, and the trio at the center – John Mallory Asher, Michael Manasseri and Vanessa Angel – handled it all with slapstickish aplomb.
House of Cards
For Netflix's first major original series, the streaming service teamed with David Fincher and Media Rights Capital in bringing the 1990s miniseries House of Cards across the pond and into modern Washington D.C. And although the story gets a little too dramatic and soapy at times, the U.S. House of Cards looms large as one of the best political dramas out there, with standout performances from Kevin Spacey, Robin Wright, and Michael Kelly, among others. We have yet to see how closely the story of Frank and Claire Underwood will tie into the original series, but we're assuming that Frank's monologues will keep us informed.
Head to the next page and tell us which of these remakes is your favorite.
This poll is no longer available.
Assistant Managing Editor
Nick is a Cajun Country native, and is often asked why he doesn't sound like that's the case. His love for his wife and daughters is almost equaled by his love of gasp-for-breath laughter and gasp-for-breath horror. A lifetime spent in the vicinity of a television screen led to his current dream job, as well as his knowledge of too many TV themes and ad jingles.
Your Daily Blend of Entertainment News
Thank you for signing up to CinemaBlend. You will receive a verification email shortly.
There was a problem. Please refresh the page and try again.